Anthuriums in the home of blogger Remade with Love
We love Anthuriums because they have the shape of a heart. What also makes our hearts beat faster is blogger Remade with Love. It is the stunning Instagram account of Anne. We paid her a visit and gave her some gorgeous Anthuriums to give a place in her home. You can see the result on her socials – and ours. High time to get to know Anne!
Can you describe your home for us?
"We moved into our newly built house around five years ago. Back then, the Scandinavian and industrial styles were totally trending. When you look at our interior in those days, we can see that immediately. However, we soon started to feel that this style was not 100% us. We felt the atmosphere could be warmer. This quickly changed when we started bringing more warm materials such as rattan, linen, wood and several warm colours into the house.
What is your interior decorating style?
Our current style is a mix of old, new and home-made. We love being in nature and are keen to see this reflected in our future home, because at the end of next year we will receive the keys to our 70s dream home. It is a bit of a project, though. The new interior will have a calm, but especially warm basis with colourful accents, striking tiles and contrasts here and there, because we don't like things to be too monotonous. We can't wait for our big garden where we plan to have loads of plants, trees and flowers. And we would also love to start a vegetable patch! Needless to say, I will be sharing all my interior and DIY ideas with my followers. But for now, we will continue to enjoy our current home.
Do you have green fingers?
We enjoy having lots of houseplants in our home because they create a lovely atmosphere. But not all plants survive in our house… I have noticed that I am slowly starting to get green fingers.
Do you have tips for looking after plants?
What's very important, is to put plants in the right spot. If a plant is not thriving, I will often relocate it to a lighter or darker spot. I've had my Anthurium plant for 4 weeks now and it still looks great. Looks like we are a good match!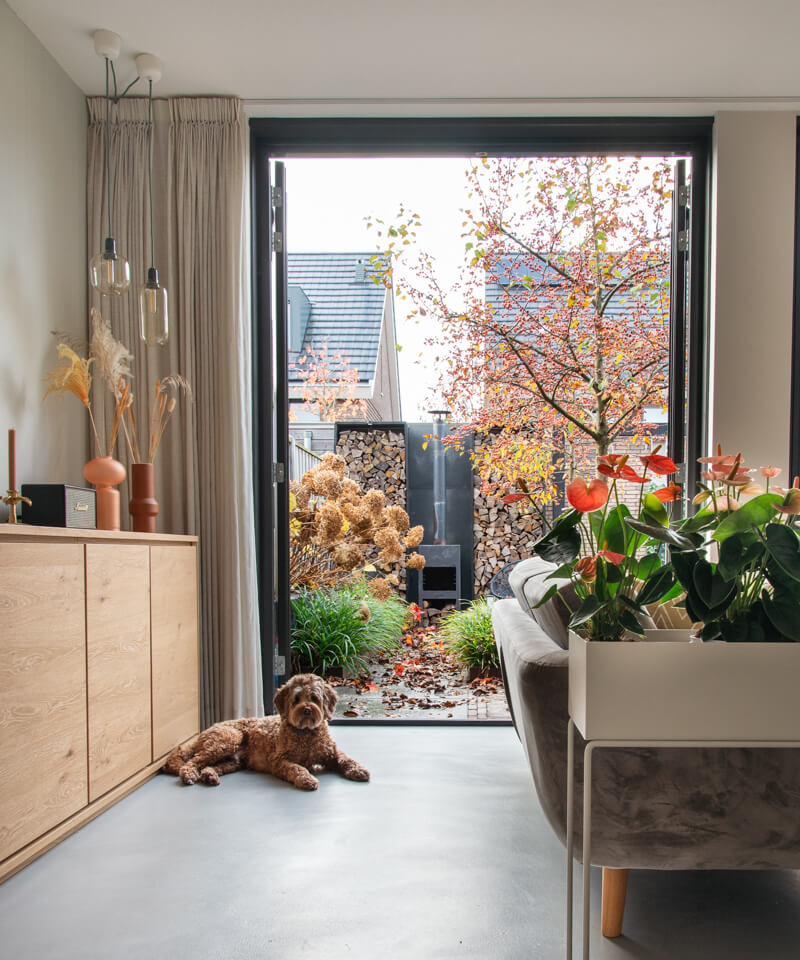 Do you also have plants in your work space?
There are lots of plants in our home office: 6 of them to be exact. They create a cosy and relaxed atmosphere. What's more, Anthuriums also have air-purifying properties. So they are not only pretty, but also good for your health!
Did you already know about Anthurium?
To be honest, I was not very familiar with Anthuriums, but now that I have them at home, I am suddenly starting to see them everywhere. I keep them as a houseplant, but also use them as a cut flower. Anthurium flowers are like little works of art, so beautiful!
What is your favourite colour?
I prefer the warmer colours: red, orange and orange-pink. They look stunning in my favourite brown-orange vases!
If you want to find out more about Remade with Love, be sure to check out Anne's blog at www.remadewithlove.nl or follow her on Instagram: @RemadewithLove.