Get more out of your Anthurium plant with these ideas
Your plant looks good on the windowsill, but there are so many ways of doing more with plants in your interior. Here are a number of interesting tips about plants at home. The possibilities are endless and for that you really don't need to have green fingers!
Get more out of your Anthurium Plant
Go for height
We've been putting pictures, mirrors and shelves up on bare walls for years. But it's really nice to use hanging plants on the wall. And then I don't mean the typical hanging plants where the shoots and leaves grow down, but actually all sorts of plants. Just in a hanging pot or an interesting bag. We all already have hooks in the wall, so I'd say, 'Take the pictures down and hang up plants!'
Also read: Where can I order Anthurium plants online?
Houseplant in water
A plant gets nutrients and water through its roots. It is a wonderful network of fine hair-like roots and thicker roots. So beautiful that it's worth being able to see. By rinsing the roots clean and putting them into a little water, it is still possible to do that. If you remove the plant from its plastic pot and rinse it well with water, you can wash the soil off the roots. Gently separate the roots and shake the soil out of them. As long as the roots get water, the plants are quite happy without soil. Fill the glass vase with a little bit of water and put the anthurium with clean roots in to it. You now have a really stylish version of the plant. It looks nice and trendy and you can also see the roots growing.
Also read: Make your own underwater flower arrangements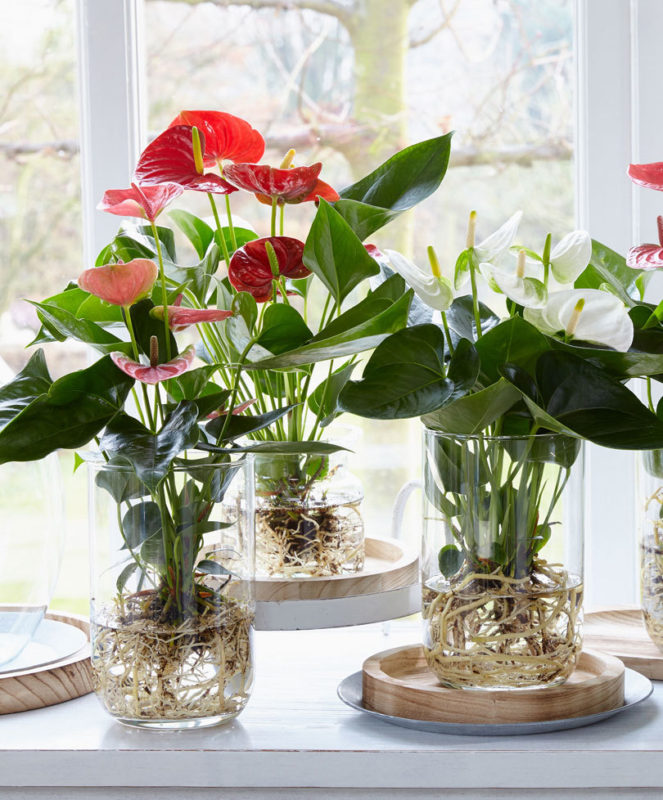 Go for green on your desk
Apart from the plants enhancing your workplace, they also help reduce work-related stress and increase concentration. A bit of nature on your desk can actually be very soothing. Various studies have shown that plants have a beneficial effect on the ability to concentrate because of their air-purifying qualities. They raise oxygen levels in the room and that means that people get sick less frequently, feel less tired and irritations of the skin, eyes, nose and throat disappear. Still don't have a plant in your office or workplace? That's a good enough reason to pay to a visit to the nearest garden centre to add a touch of green to your desk. It is not only nice to look at, but it also does you good.
A tropical paradise
Your favorite plant looks wonderful in your living room, but why not have plants all over the house? The ultimate spot for the Anthurium, which is tropical in origin, is of course the bathroom. The warmth and high humidity means it feels completely at home there. It's also much nicer to look at than the towel rail. Just add a good book, some candles and a glass of wine and you have your own spa. A great place for dreaming with that tropical touch.
Also read: 4 DIY ideas that use anthurium flowers and plants