Make your own underwater flower arrangements
Sometimes we come across such original ideas that we just have to share them! Like this nice DIY project we saw at Happy Monday Blog, in which they wrote about underwater flower arrangements. And three guesses: which flower would be the best choice? This article tells how you can maken your own underwater flower arrangements.
Bringing in fresh flowers every week to brighten up your home is always a good idea. Sometimes, though, you might want something other than 'the usual vase'. Why not arrange your flowers entirely under water? The result will be a little work of art that will also last a lot longer!
Use some sturdy flowers
If you're going to maken underwater flower arrangements, it's important to select sturdy flowers – especially if you want to enjoy your underwater flowers for a long time. You could use, for example, roses or calla lilies but the Anthurium is probably your best bet yet. You could also choose to combine several kinds of flowers.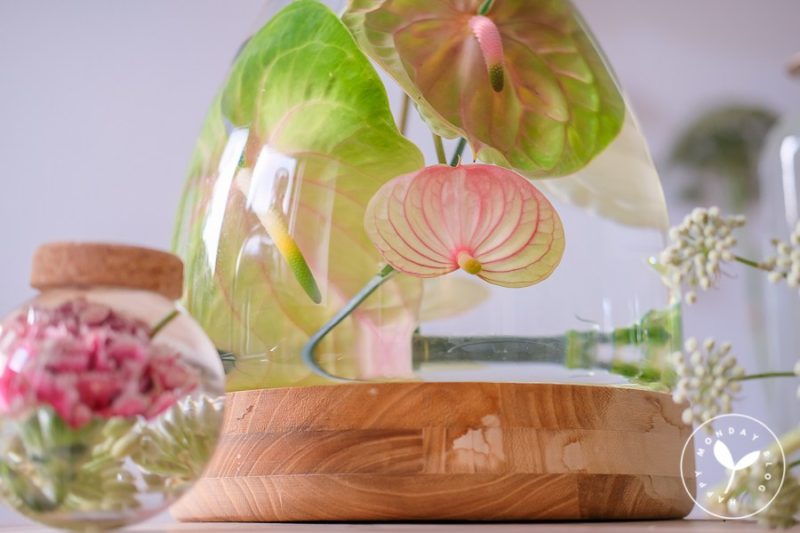 The nice thing about Anthuriums is that their stems are easy to bend in order to get a pretty effect in a glass vase. And their spathes have a natural glossy water-resistant coating. Furthermore, water acts as a kind of magnifying glass to make the shape and colour of the flowers even more spectacular. Choose flowers that will look good in a certain room or that will match your home accessories. Why not fill several large vases with flowers for an even more impressive arrangement? Or – just as pretty – cluster a number of smaller vases together.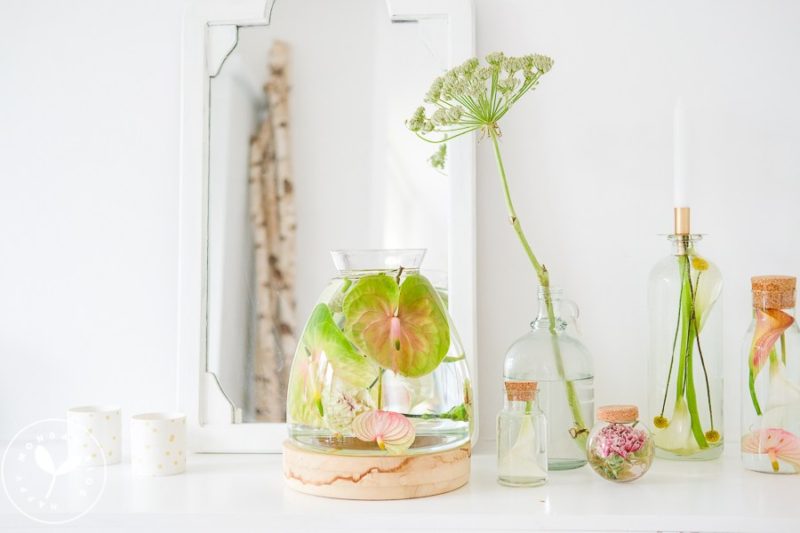 Photo: Happy Monday Blog
What you need for your underwater flower arrangements:
• A few nice sturdy flowers in a colour appropriate for your interior
• A number of tall glass vases, pots or water bottles (possibly with the caps)
• Distilled water (available in litre bottles in supermarkets or pharmacies)
How to make it:
Step 1: Start by cleaning the vases, pots and/or bottles. Thoroughly dry the outside of the containers and fill them with the distilled water. This will eliminate any bubbles forming on the flowers. If you don't have any distilled water handy, add a drop of bleach to some tap water.
Step 2: Let some flowers (the number depending on the size of the vase) drift slowly downward into the water. Bend their stems carefully so that they won't snap. Once you've allowed the flowers to drop into place, they should simply stay beneath the surface of the water. If they tend to float, however, you could weigh them down with a little bag of pebbles tied to the flowers.
Step 3: When you have all the flowers where you want them, trim off any stems protruding above the surface of the water. Tip: Be sure that the flowers remain below the surface of the water at all times by adding more water if necessary. If the flowers start to turn yellow, add a little bleach to the water to make it clearer.
And there you have it: your own underwater flower arrangement! Not so difficult after all!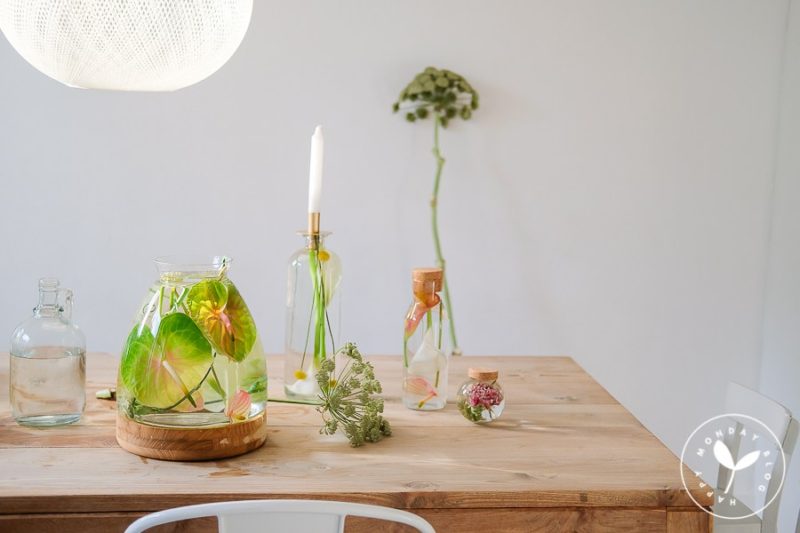 Also read: 4 tips to take beautiful original pictures of flowers.