Ms Styling Opts for Colourful Anthuriums
Gerdien Lodewijk of Drachten in the Netherlands regularly gives us a glimpse into her interior, under the pseudonym Mevrouwstyling (Ms Styling). Gerdien prefers a splash of colour over 'safe white'. So it makes sense that her colourful Anthuriums take pride of place in her living room. Let's find out more about Gerdien.
Colourful Anthuriums
A Passion for Interior Design and Colour
Gerdien: "Ever since we were given the keys to our first home, I have worked on the interior design of every room. I regularly paint the walls a different colour and I am also always changing the décor. We have seen so many chairs, sofas and cabinets come and go over the past few years. I enjoy finding charity shop treasures or looking for fun new furniture."
Having taken an Interior Styling course at the Interieuracademie Interior Design Academy in 2018, she became active on Instagram. Gerdien: "I love inspiring and challenging others to use more colour in their interiors. Luckily for me, lots of other people feel the same way: over the past few years, my channel Mevrouwstyling has grown massively. I now also have my own webshop and high-street store, where I sell various colourful home accessories and other items."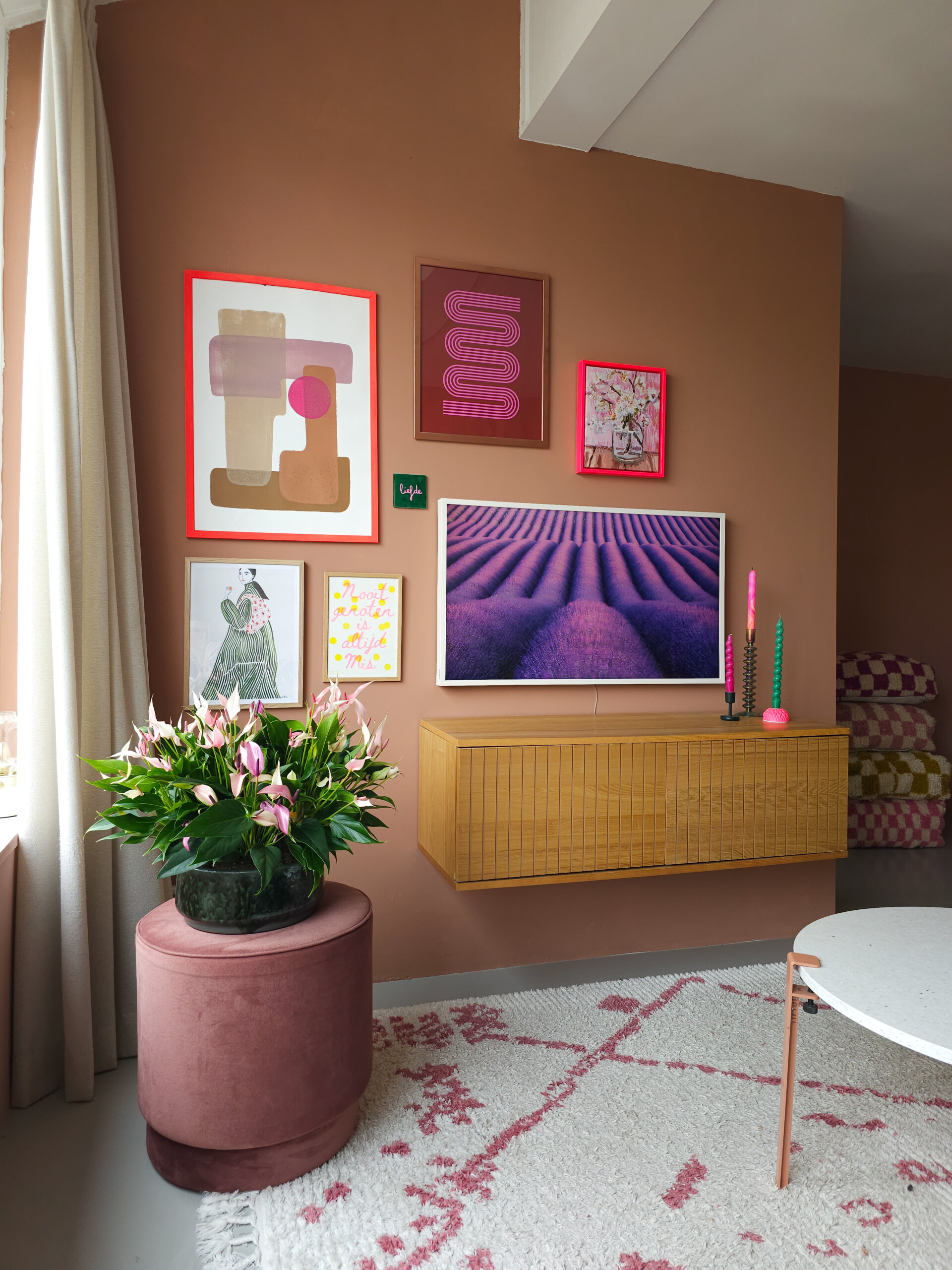 Colourful Anthuriums
Several houseplants have pride of place in Gerdien's interior, including a large Swiss cheese plant (Monstera). Greenery in your home brings a room alive and creates a sense of cosiness. Flowering houseplants are an excellent way to bring colour into your home. That's why Gerdien chose a mix of pink and purple Anthuriums: "I display them in a lovely green pot. They look fabulous grouped in one pot! But it's important to choose the right pot size. Make sure the plant, or rather the root ball, has plenty of room to grow. Needless to say, the colour of your pot is also important. It should match the interior, but also the plants."
Tips for Prolonged Flowering
It's easy to get lasting enjoyment out of Anthuriums. Place the plants in a spot with plenty of daylight (not in full sun). Give them a splash of water once a week. A useful tip (that works for any house plant) is to stick your finger in the potting soil. Only water the plant if the soil feels dry.
Although some Anthurium plants will flower non-stop all year round, they usually follow a cycle. Three months of flowering are generally followed by a break, and then new buds will appear. If you haven't seen any flowers for more than three months, you can lend your Anthurium a helping hand by not feeding them for six to eight weeks and not giving them much water. After that, water and feed them regularly as before. This way you're sure to get your Anthuriums flowering again.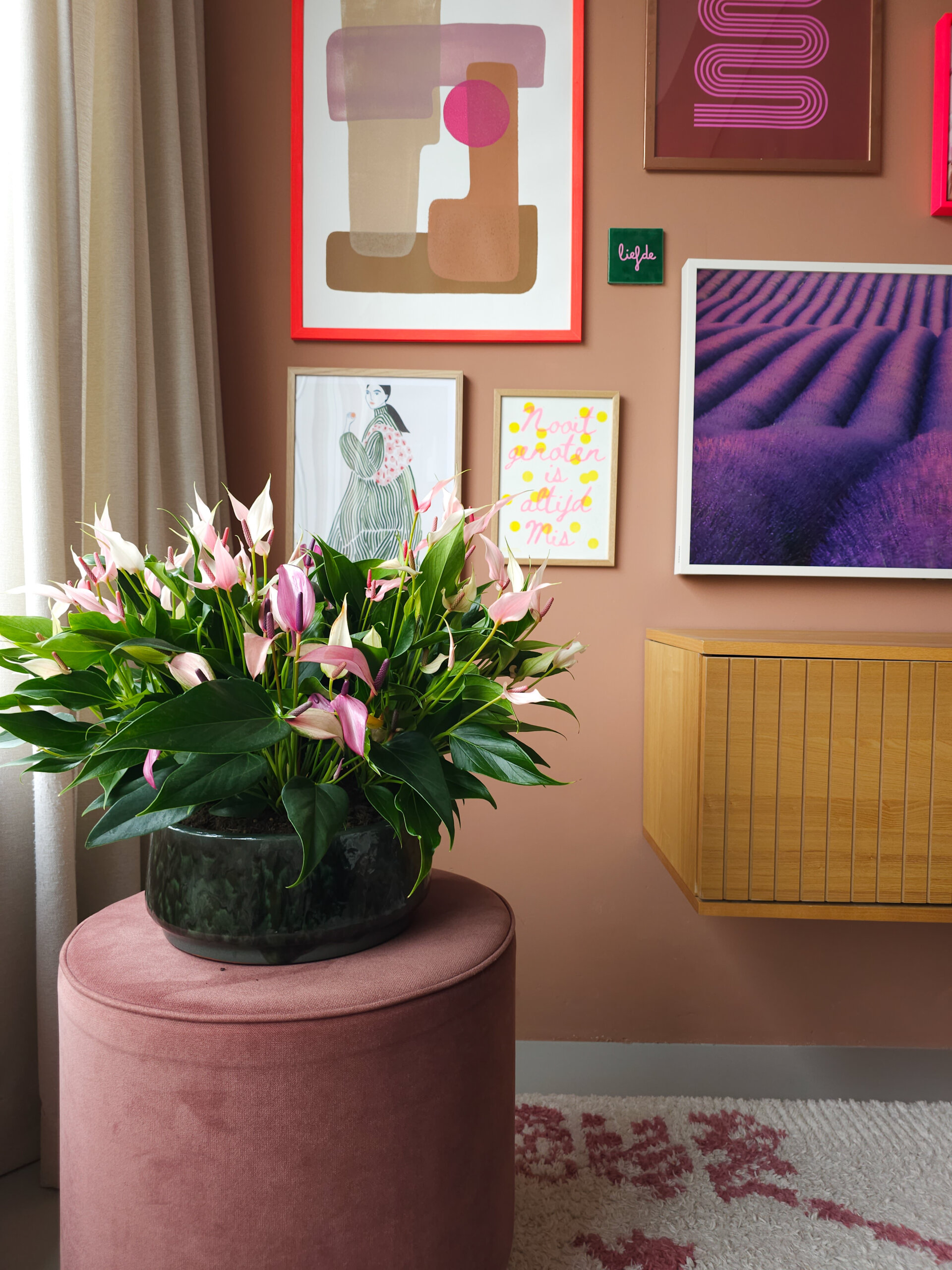 To see more of Ms Styling's colourful interiors, follow Gerdien on Instagram at @mevrouwstyling or check out Mevrouwstyling.nl. And if you live in the Drachten area, in the Netherlands, why not drop into her store? Address: Noorderbuurt 42, Drachten, the Netherlands.