Style Trend 2024 Viva La Vida: celebrating life with passion & colour
Every year, the Flower Council develops a number of style trends for the horticulture sector, in collaboration with Tuinbranche Nederland, iBulb, INretail, and Bureau Nijman + Van Haaster. The Green Industry Trends for 2024 consist of four style trends that focus on flowers, indoor plants, and outdoor plants. In this article, we will explore the style trend Viva La Vida, which embodies joyfulness, exuberance, passion, colour, and expressiveness. In other words: celebrating life! Keep reading to get inspired.
Style Trend 2024 Viva La Vida
The Viva La Vida style trend is all about celebrating life. Forget minimalism and immerse your home in colour, patterns, and fringes, drawing inspiration from Spain and Mexico. Natural materials are applied in a way that gives them a decorative appearance. The core values within this trend are warmth, excitement, cheerfulness, expressiveness, colourful, passionate, spicy, and decorative.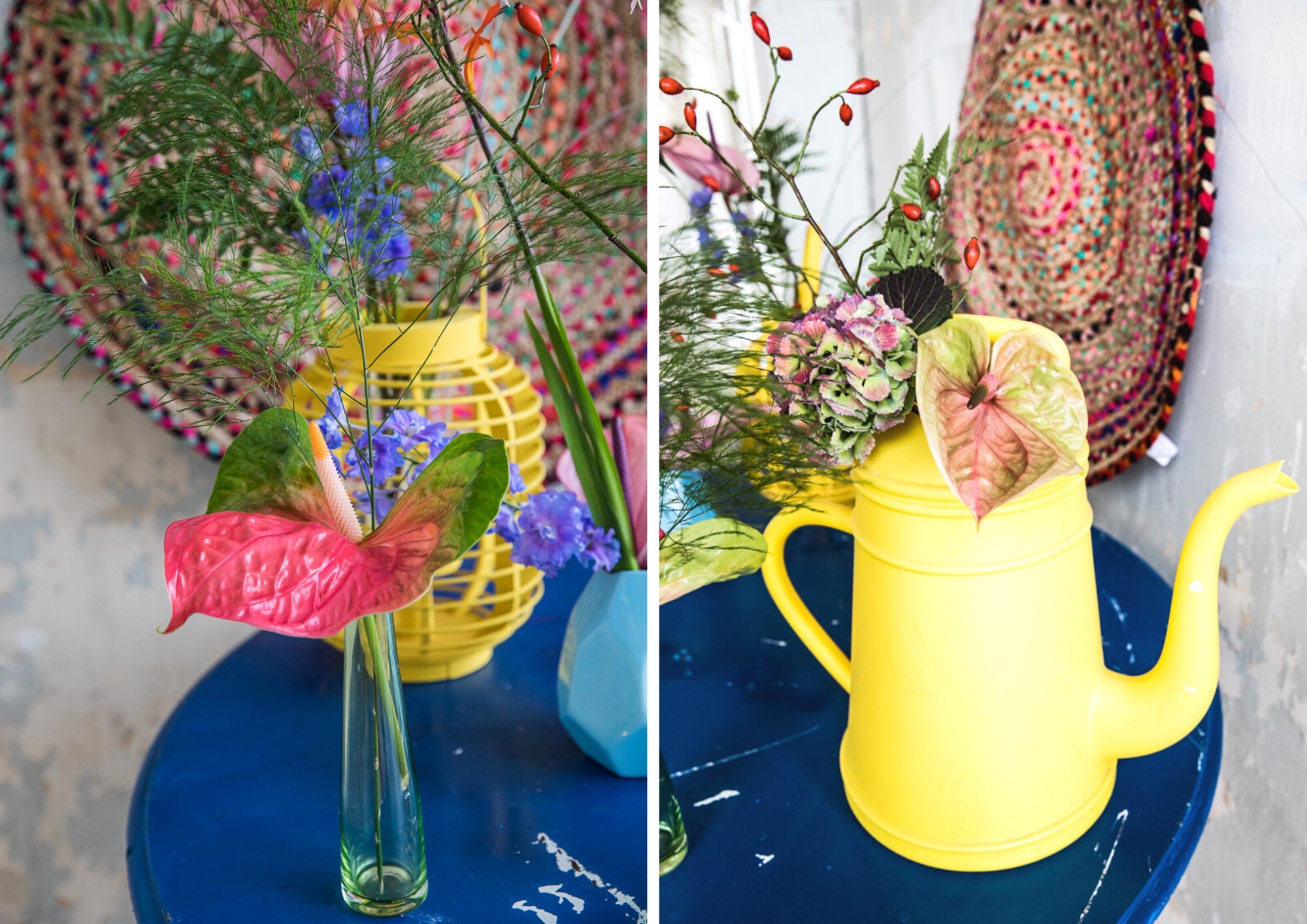 Viva La Vida in interior design
Within Viva La Vida, the shapes are generally simple and smooth, with eye-catching materials giving the objects a unique decorative look & feel. Natural materials help create a decorative ambience. This includes decorative tiles, mosaics, coloured and woven reeds and raffia, textiles with frays, frills, and fringes, pigmented wood, and wrought iron with patterns. The used patterns are colourful and highly diverse, ranging from classical to modern. Spain and Mexico are clearly sources of inspiration here.
A trend like this naturally features a warm and vibrant colour palette. Essential colours are pink, red, Viva Magenta (Pantone Color of the Year 2023), orange and bright yellow. These colours are also found in the flowers, plants and accessories. The accent colours in this palette are black, Marsala brown and bright mint green. When it comes to floral arrangements, colour is the magic word. Preferably vibrant and festive, and combined with full flower shapes. Whether it's a voluminous and full bouquet or a single eye-catching flower: the keyword is "dramatic". Blooming house plants are also perfect for this trend.
Viva La Vida in the garden
Viva La Vida also means a festive garden filled with tropical plants in tropical colours. Southern-inspired patios capture the imagination and decorative wrought iron is making a comeback. Cheerful colours form a duo with romance. How? By incorporating decorative elements into the garden, creating intimate corners, and planting lushly flowering Clematis, honeysuckle, roses, and Bougainvillea. Embrace passion, romance, and a festive ambience in your garden or on your balcony.
Learn more about the other three style trends for 2024: Meaningful Earth, Gentle Paradox, and Playful Construction.