PRCHTG: no vowels needed
Fleur and Jessica are the ladies behind PRCHTG: this means beautiful, with the vowels left out. Both ladies love the colour pink, design, photography, and styling. Since 2021, they have had their own webshop with accessories such as resin parakeets, candlesticks, and vases. Beautiful to match with a few stems of Anthuriums!
Beautiful with Anthuriums
The busiest month of the year, December is thankfully over. However, Fleur and Jessica are always busy bees. Jessica: "Last November we opened a pop-up store in the heart of Amsterdam in which we presented our most beautiful products. The nice thing about having a physical store is that you can immediately note your customers' reactions. The Australian parakeets proved to be immensely popular, but many people were also enthusiastic about our warm blankets and trays.". As the ladies of PRCHTG love flowers, pink Anthuriums and Cymbidiums filled the pop-up store. It was beautiful!
Fleur: "We have become big fans of Anthuriums! We still can't get over how many different colours and shapes there are of this simple, yet fabulous flower. Especially the purple and dark pink varieties steal our hearts. The Anthurium is beautiful in all its simplicity. We love Foekje Fleur's bottle vases to match with Anthuriums. Perhaps we find the flower even more beautiful solo than in a bouquet.".
Explosion of colour
The ladies of PRCHTG are extravagant when it comes to floral styling. Fleur: "We dare and do everything; mixing all sorts of colours, sizes, and varieties together. We like to add a sturdy rose hip branch or other large berry branches, to support the other flowers. Sometimes, we also use a "hedgehog" in our vases. This is an iron weight with spikes to pin your flowers to. A clever trick to put your flowers upright in a vase.".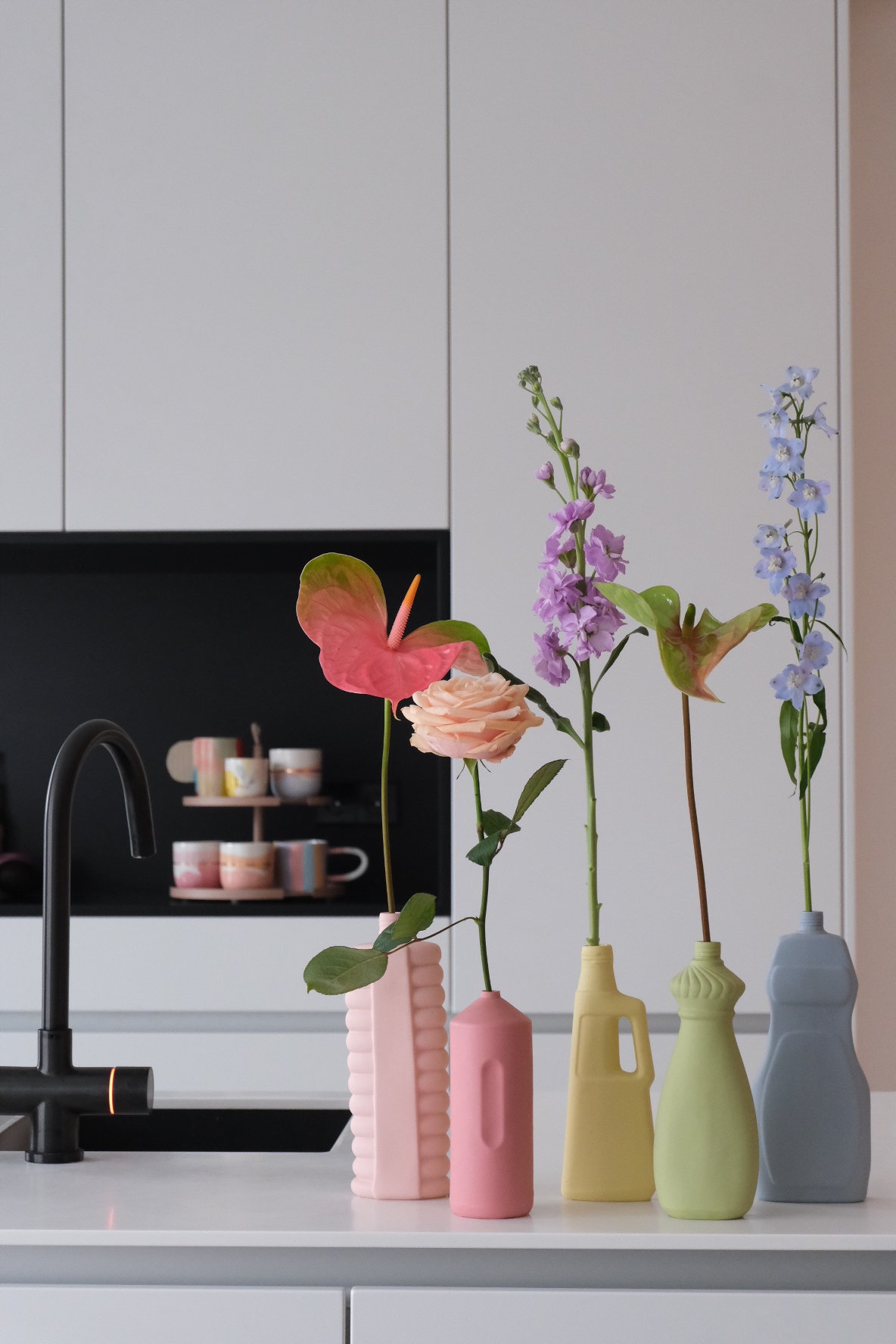 The vases in the PRCHTG webshop are handmade at Cor Unum in Den Bosch, the Netherlands. Jessica: "We love the designers' ideas and we feel and see the craftmanship in them. Should you ever have the opportunity, go and see for yourself how they use ceramics to make the most beautiful objects!".
Take a look at PRCHTG's online shop. Apart from vases, you will also find plenty of accessories. Curious what all that beauty looks like? Then be sure to follow @PRCHTG on Instagram!