The style trends for the floriculture sector in 2021
Here are the style trends for the flower and plant sector in 2021! Tuinbranche Nederland (Netherlands Horticulture Sector), iBulb and the Flower Council of Holland have developed them with trend expert Aafje Nijman. The current zeitgeist has been used as the basis for the trends and translated into four style trends for 2021. In the current zeitgeist, technology is playing a growing role in our lives. It includes the discussion about ethics, but also the coldness of a distant world, has a direct effect on how we dress our house and ourselves. That translates into 4 new style trends: Human Touch, Balanced Biotope, Crazy Illusions and Recentered Stage. You can read more about it in this article.
4 style trends for 2021
Human touch
This style trend is all about a happy state of mind, stimulating the senses, need for empathic interaction and focus on hobbies and leisure in a time when the world is turned upside down. That means that thinking about nothing, having no stress and don't stimulate the senses is important. Time for a pause and me-time.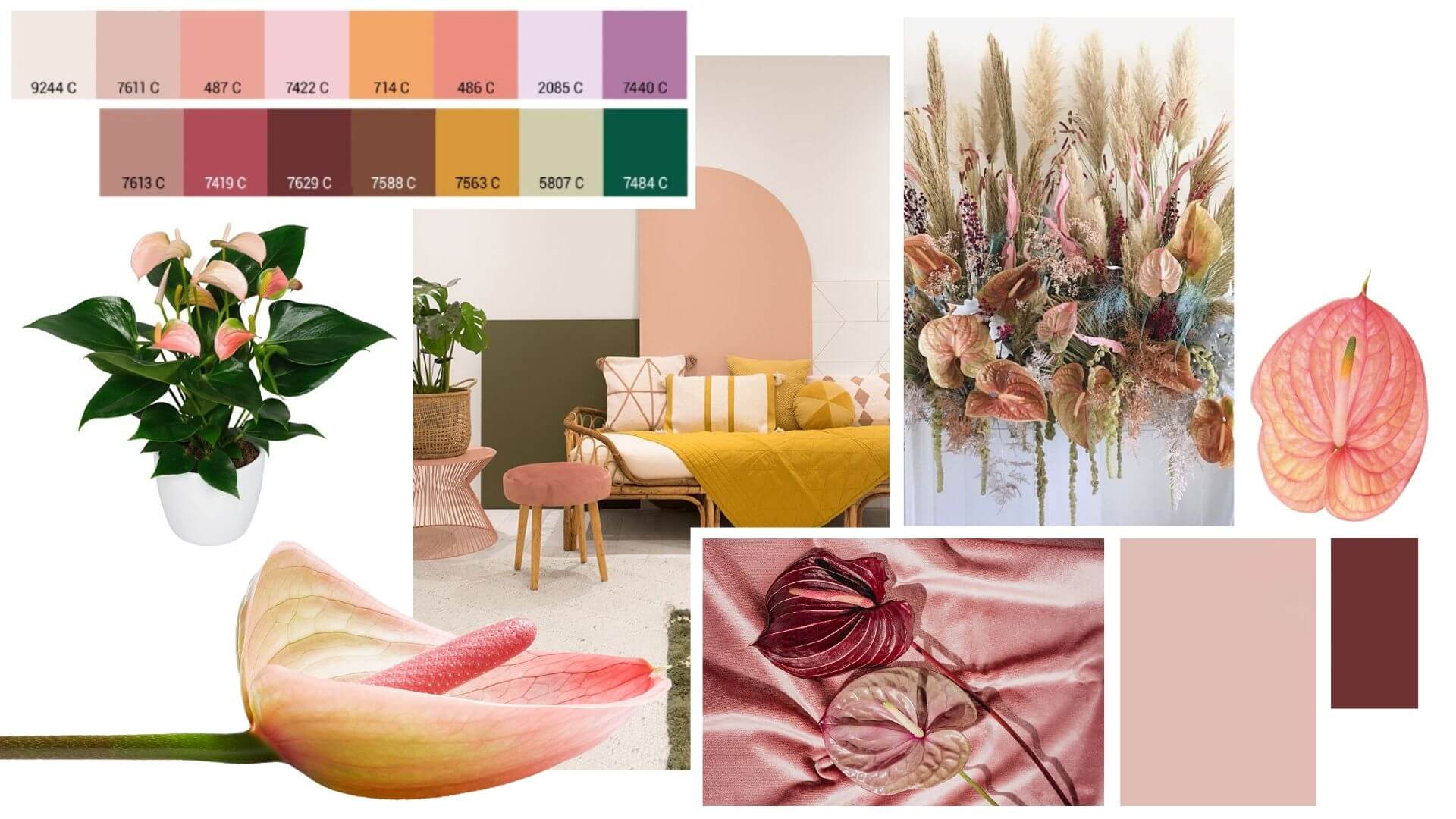 Interior
In the interior we see calmness, with round shapes, human shapes, everything in skin tones from light to dark and lilac added to keep it fresh. Colors transition from pink to terracotta with a harmony in color combinations. A lot of soft materials are used such as plumes, leather combined with ribbed and wrinkled structures.
Flowers and plants
Greenery has a special role in this trend. In flowers, we see the use of plumes in combination with soft, natural colors. In plants, the combination with skin color is seen a lot, so green foliage plants with pink flowers. Organic shapes are clearly visible and soft tones and colors are also very important in this trend.
Balanced Biotope
This style trend is about how we should find a new balance in the changes. How future proof are the products offered? How can I change morale? Time changes. We look at economic ecosystems, better collaborations that improves a circular system instead of everything for yourself. There will be a revaluation of things we own. We are grateful for what we have.
Interior
In the interior we see both industrial elements as materials that blend in nature. Everything with environmentally friendly materials. The color chart includes neutral colors such as yellow, green, terracotta and blue. The search for new materials in the interior becomes very important.
Flowers and plants
There is harmony in bouquets and plants, where everything lives together and blends perfectly. Sturdy flowers and rough materials. You'll see bouquets and arrangements where the flowers and plants are tangled together with attention for natural tones. In the photography you see a lot of different materials, and attention to every natural material and flower and plant as if they are inextricably linked to the environment.
Crazy Illusions
This style trend is about freedom and ambition. Give me space in the changes that are taking place. We end up in a multi-layered society, in which online and offline are increasingly connected and lead to surreal combinations. With the new technology, we are moving to a reliable and faster online environment. Young people want to be heard and no longer want to be ignored by the baby boomers.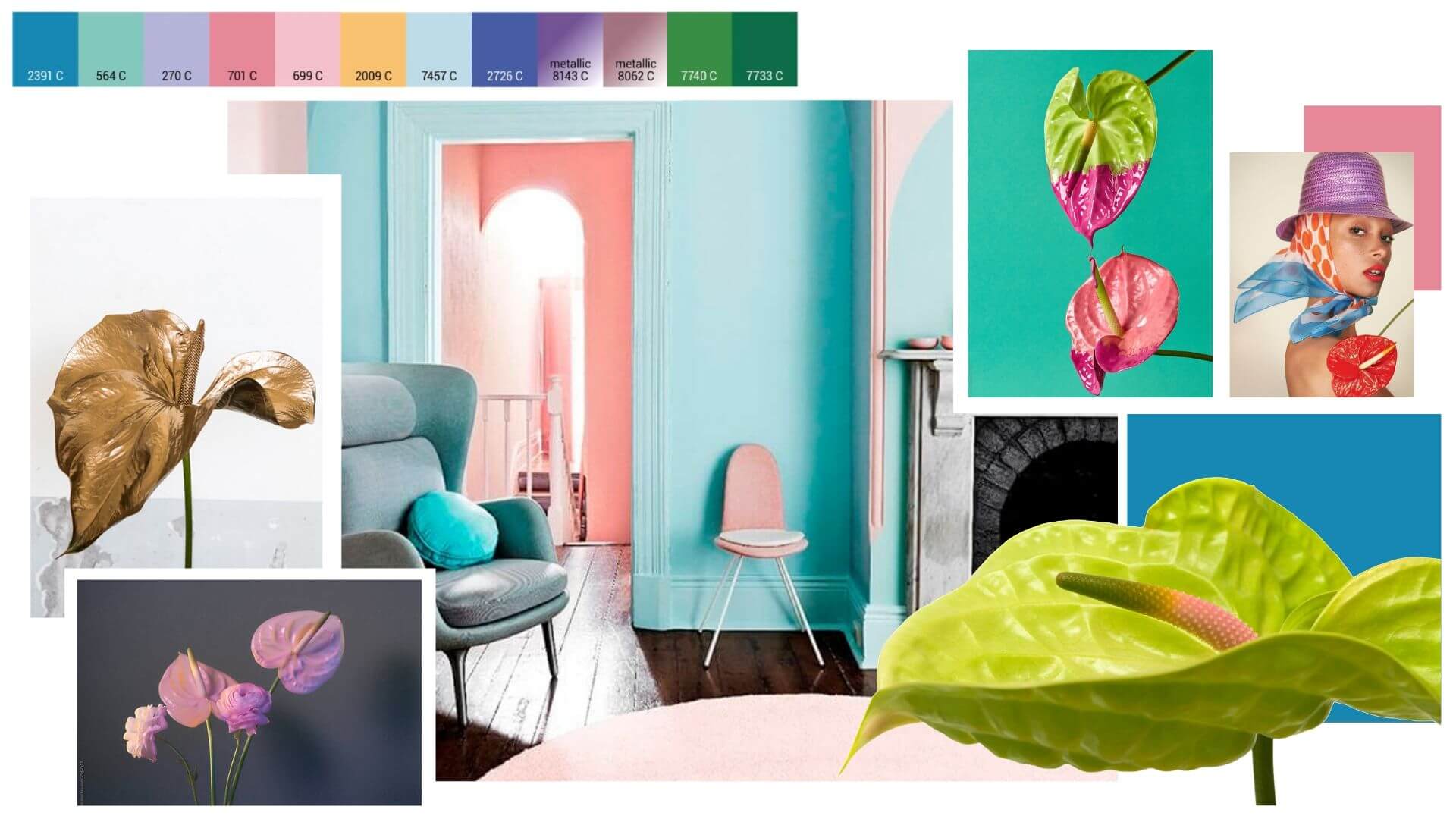 Moodboard Crazy Illusions
Interior
In the interior we see that strange color combinations and shapes lead to new fun design. Bright colors, sometimes a bit soft, sometimes a bit hard combined with metallic. Weird products, round and ribbed shapes.
Flowers and plants
The painted flowers are reflected in this trend, but also weird products. We see a fresh new style in bouquets. It is full of contrast, colorful and bold as if we have not learned how to "do it". Pampas grass and painted flowers play a major role. This trend gives bouquets a new look with bright colors and it will reach a new target group.
Recentered Stage
Recentered Stage is about performance, ambition, recognition and control. How is my opinion heard in a time when everything changes. A time when everyone wants to be heard. We recognize color, speak out and value the clarity and conviction of new leaders.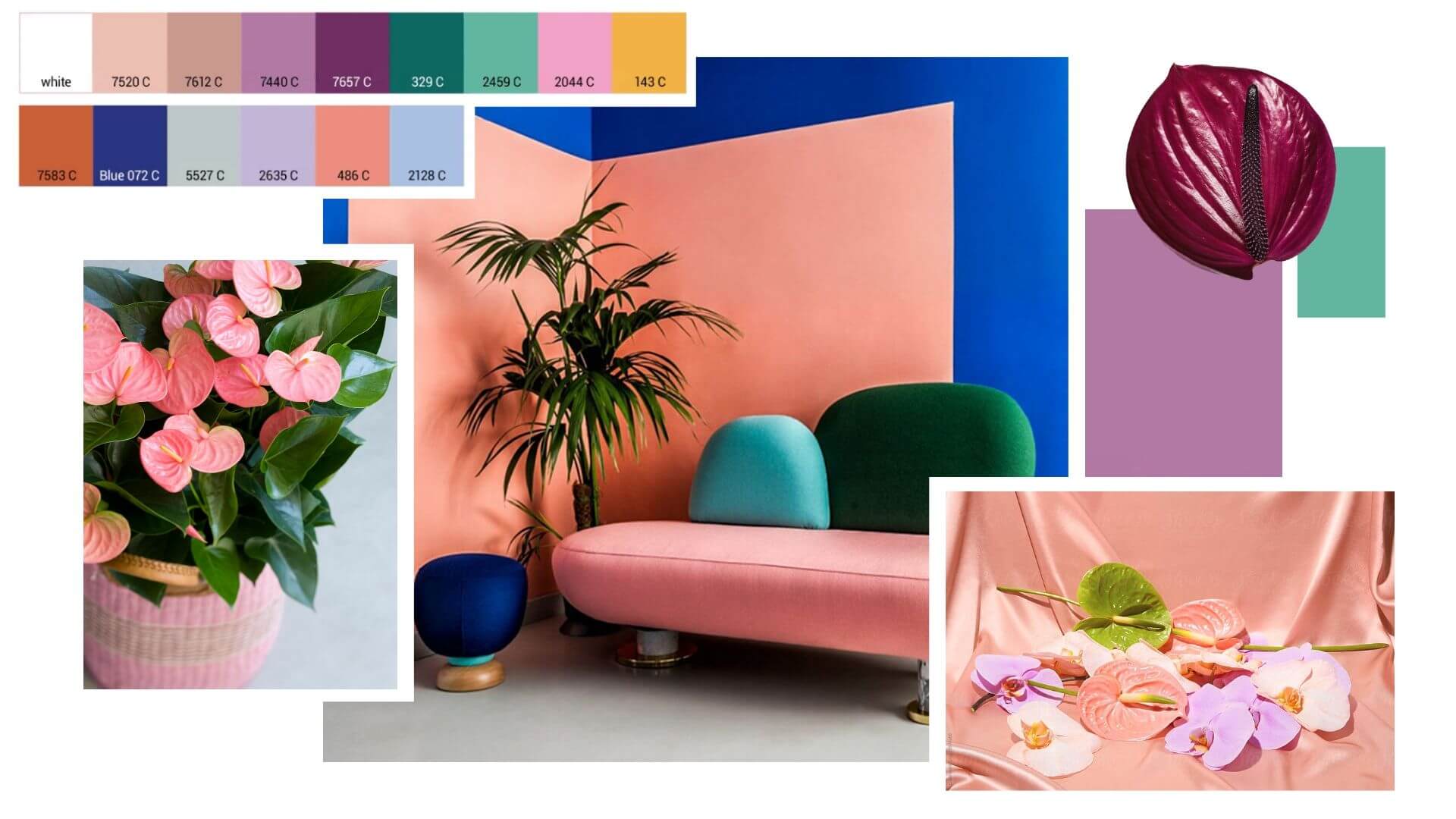 Moodboard Recentered Stage
Interieur
We are rebuilding our world like a box of blocks where we experiment with design in and around the house. Some products are highlighted by placing on a pillar. The color chart shows soft natural tones but also strong and dark colors. It is used in contrast, as a statement. We are playing with the shapes. In design we see that things are presented solitary, on a pedestal.
Flowers and plants
New proportions and new volumes are created. Plants and flowers are arranged in a way that you can view them from multiple sides. They are placed on a pillar and will get new attention. Plants and flowers are the key piece in the interior where colors are used as a statement.