Christmas with colourful Anthuriums
About seven years ago, Wies started with her Instagram page @Dailydoseofgoldie. What started out as a hobby, resulted in a real job. Today, she has a large following she inspires with her colourful interior. Perfect to match colourful Anthuriums with! With Christmas in mind, we asked Wies to make it extra festive at home with colourful Anthuriums.
Christmas with colourful Anthuriums
Golden tray
Wies: "Making festive decorations with Anthuriums … say no more! I love to work with these heart-shaped flowers, they are so easy to style. I picked out some colourful Anthuriums and put them together in different vases and lengths on a tray. I combined the Anthuriums with Cymbidiums. Two totally different flowers, yet so easy to combine as they enhance each other's beauty."
As expected, with "Dailydoseofgoldie" as your Instagram name, the tray has a gold colour. The baubles with lights as well. This makes the colourful Anthuriums stand out even more. Wies: "Both flowers have a long vase life. So on New Year's Eve, they are still shining."
Festive combinations
Anthuriums can also be used to brighten up your table setting. Just like the tray, make sure you alternate in height. Use both short and tall vases to create a playful effect. To make it extra festive, combine with candles, Christmas balls, glitter and pine cones. For the finishing touch, put a loose Anthurium flower on each plate. Not to eat of course, but the heart-shaped flower literally makes for a hearty welcome to dinner. And before the appetiser is served, you simply put the Anthuriums in a glass vase.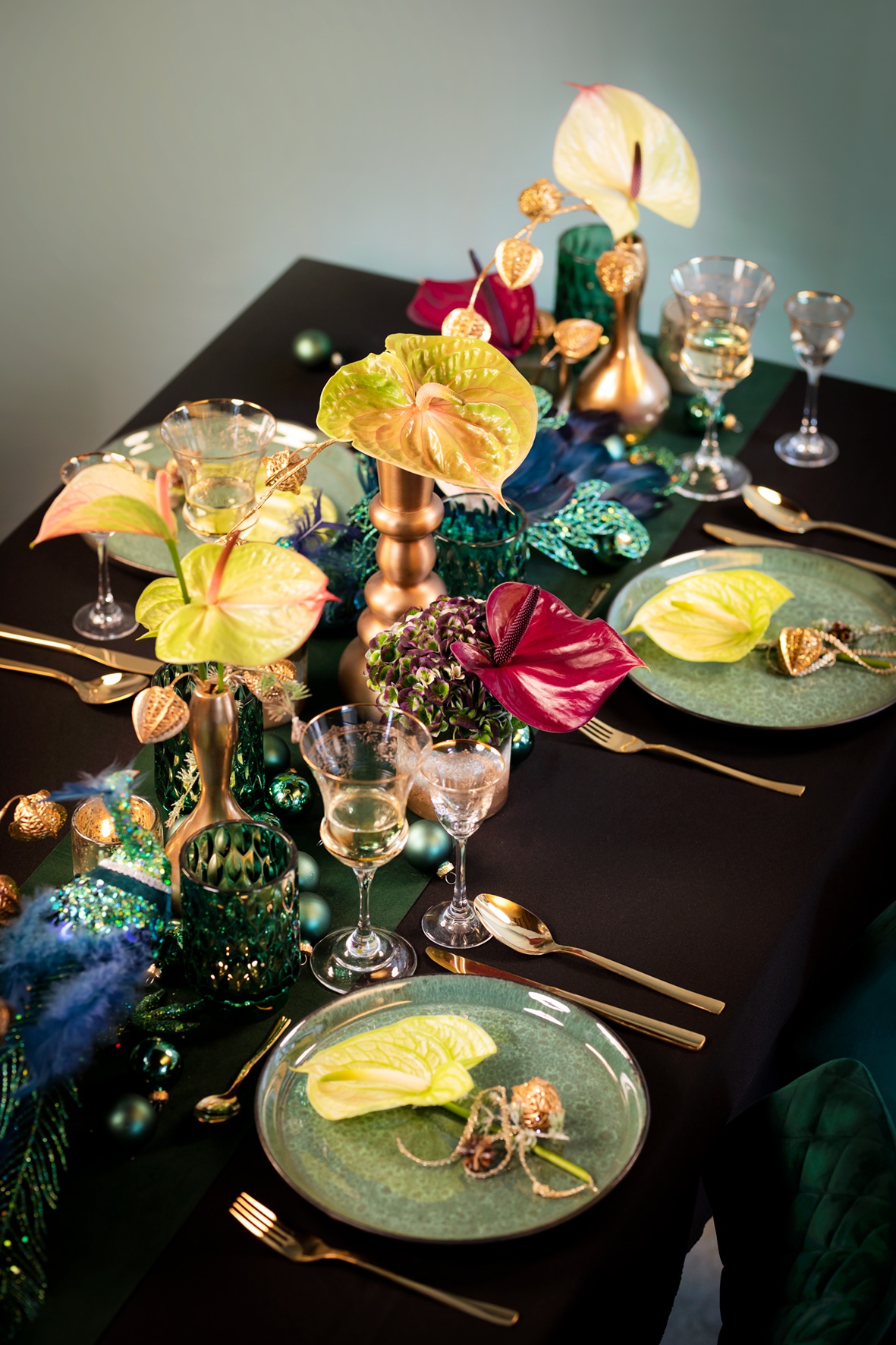 Did you know …
That the actual flower of the Anthurium is the small cob, instead of the large, heart-shaped bract. Depending on the Anthurium variety, the bract can sometimes be as much as 20 centimetres in diameter. The colour palette, with a wide variety of shades, ranges from purple to pink and from white to red.
Want to see more of Wies her colourful interior? Follow her on Instagram via @dailydoseofgoldie.