Harvesting Elements: a style trend with a simple, sober, and sustainable approach
Last year, trend watcher Aafje Nijman presented the three style trends for 2019 that she developed together with the Flower Council Holland, Tuinbranche Nederland, and iBulb. The umbrella term applying to all three trends is 'Cutting Strings', since changes are happening so rapidly that ties with old habits will have to be cut. In a series of three articles, we're going to give you more details about each of these trends. Today, it's time for 'Harvesting Elements'!
Harvesting Elements: a style trend
'Harvesting Elements' is a style trend that reflects our awareness of sustainability issues. In order to maintain a livable environment for the future, we have to take responsibility for our actions today. Essentially, this means accepting a simpler lifestyle: back to basics. The quality of life in our growing urban areas is another important topic. The use of plants in public spaces as well as in and around our homes will be absolutely essential.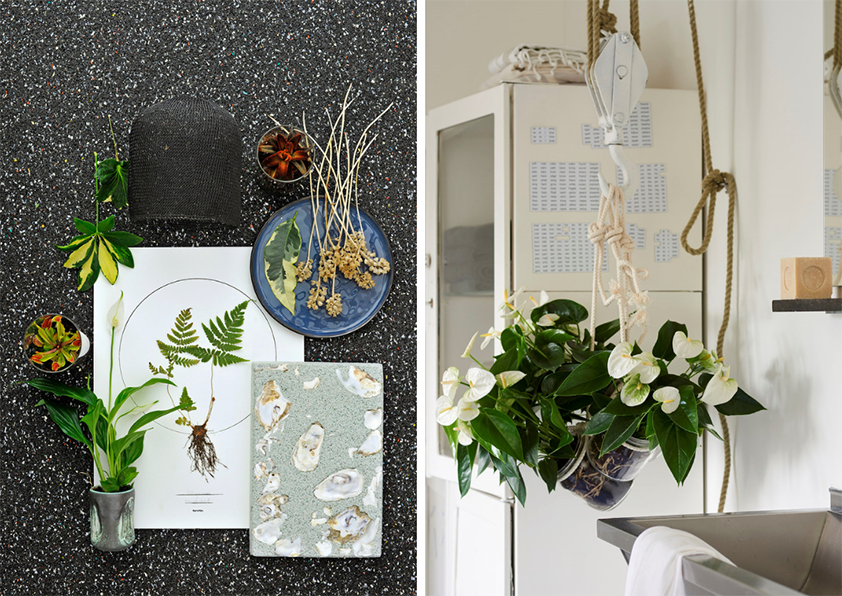 Home decor
This trend will lead to a sober, soothing home decor that makes good use of rhythm and natural products. Shapes will be simple and unfussy. Sustainability will be an important concept: disposable plastics will be a thing of the past, while the use of recycled materials will celebrate a revival. As a result, the composite materials and products included in a design may not be a perfect match for each other but will reflect their own past. This trend favours simple, natural-looking patterns. Examples of this are surfaces with a marbled look or a blotchy pattern, while fabrics will display simple plaids or stripes.
Flowers and plants will also have as special role to play in this trend: the flowers in mono bouquets can be dried, and we will be arranging a colourfull bouquet of plants in a vase rather than a flowerpot. Additionally, we see a lot of greenery being used. This will contrast nicely with the increasing use of black in interior decors.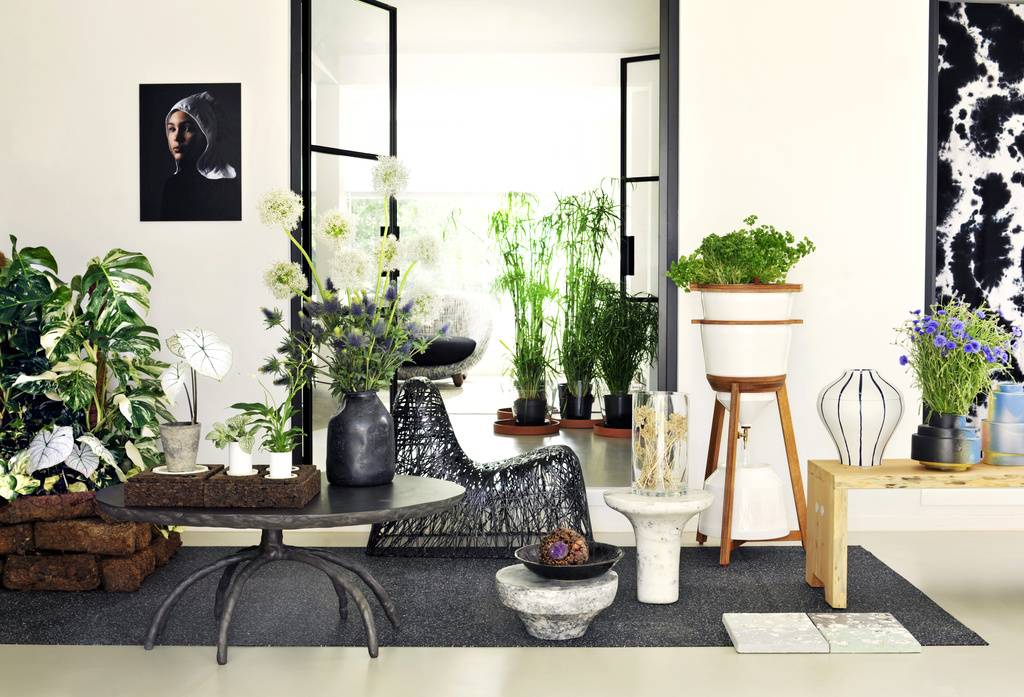 Use of colour
The predominant colours of 'Harvesting Elements' will be white, grey and black. These will be followed by blues and accompanied by natural colours such as green and brown. When it comes to flowers, various shades of blue will be most popular.
Garden
This trend will be interpreted in much the same way in gardens as in home decor, except that the sustainable aspect will be more conspicuous here. Gardens will look tidy, have an efficient and clearly defined layout, and will feature recycled materials when possible. The visual contrast will be reflected in the combined use of natural and man-made materials, for example by combining concrete with shells.
Due to the importance of recycled materials, the colour black will often be incorporated, but this will be offset by planting vibrant greenery. Meanwhile, a majority of the flowering plants will be white, blue and reddish-brown. Although these colours can appear side by side, they can also be mixed for a multicoloured effect.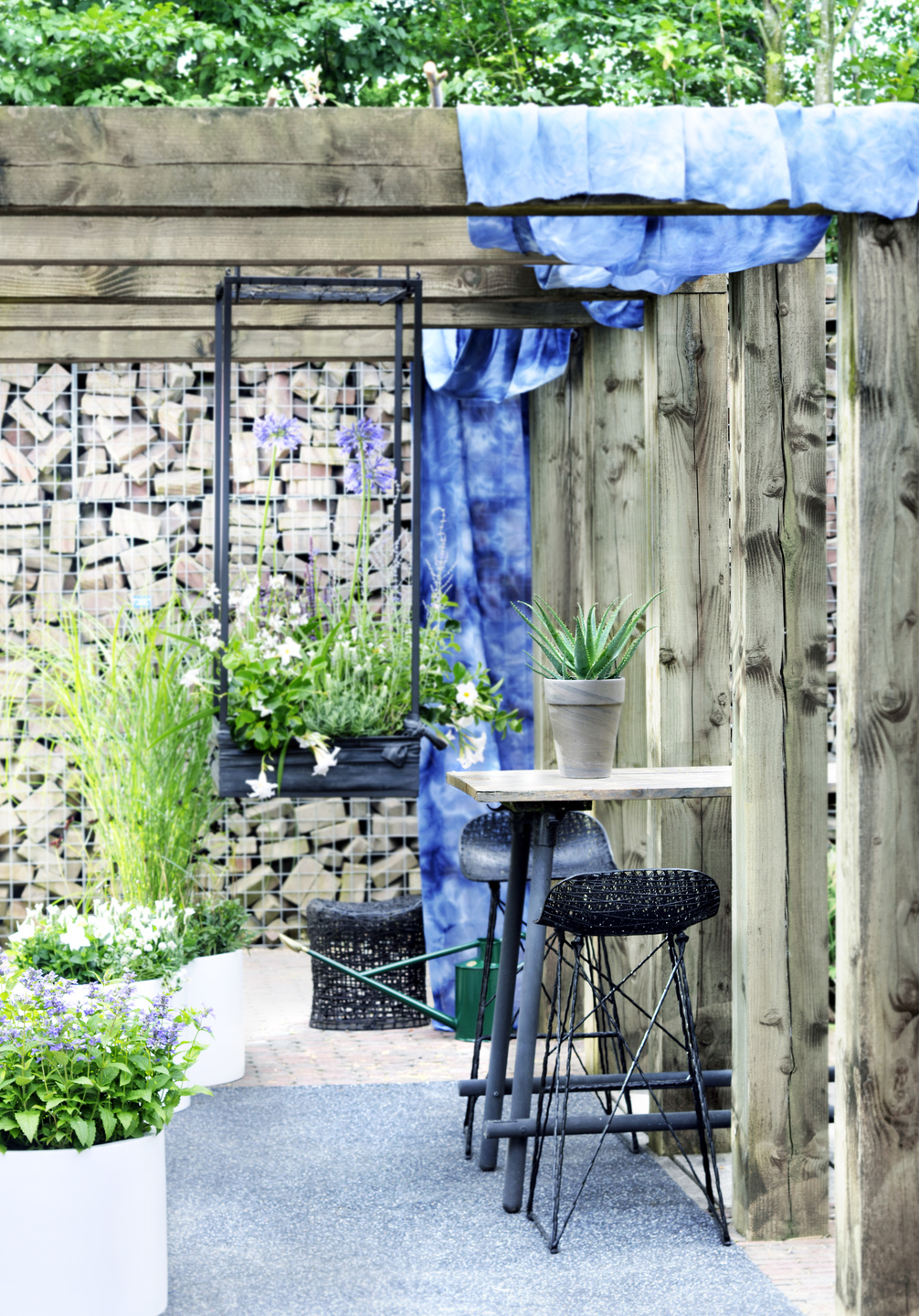 Need more inspiration? Take a look at this Pinterest board! Also read: The 3 style trends for the flower and plant sector in 2019