3x floral designs with Anthuriums by master florist Hanneke Frankema
Master florist Hanneke Frankema has won many (inter)national awards for her flower creations. In 2018 she won the Dutch Floral Design Championship and in 2012 the Barcelona World Flower Cup. All this made her a jury member in two seasons of the popular TV show "Hollands Beste Bloemstylist". Hanneke made a number of floral designs for online magazine Floral Fundamentals, including Anthuriums. Have a look for the extraordinary result.
Recognizable unique style
The floral objects that Hanneke creates are very diverse, but always striking and special. The wide variation in her designs does not alter the fact that Hanneke has an unique and recognizable style. She works a lot with separate frames and special color and material combinations.
Anthuriums bring balance in an arrangement
Hanneke likes to work with Anthuriums: "I really enjoy working with Anthuriums. They give a lot of balance in an arrangement and they are very strong. There are also many beautiful colors available. Personally, I also like the­ leaves and I'm very happy with the Anthurium flowers that are still closed" says Hanneke. In the following paragraphs, Hanneke explains how she created the arrangements.
Floral design 1
The signature of Hanneke is clearly visible in the first eye-catcher. "This large round disc is made of thick and gold aluminum wire. I attached several metal leaves on the wire, and twisted it through the gold aluminum. Many glass tubes are used in this base, which provide all flowers and leaves with water.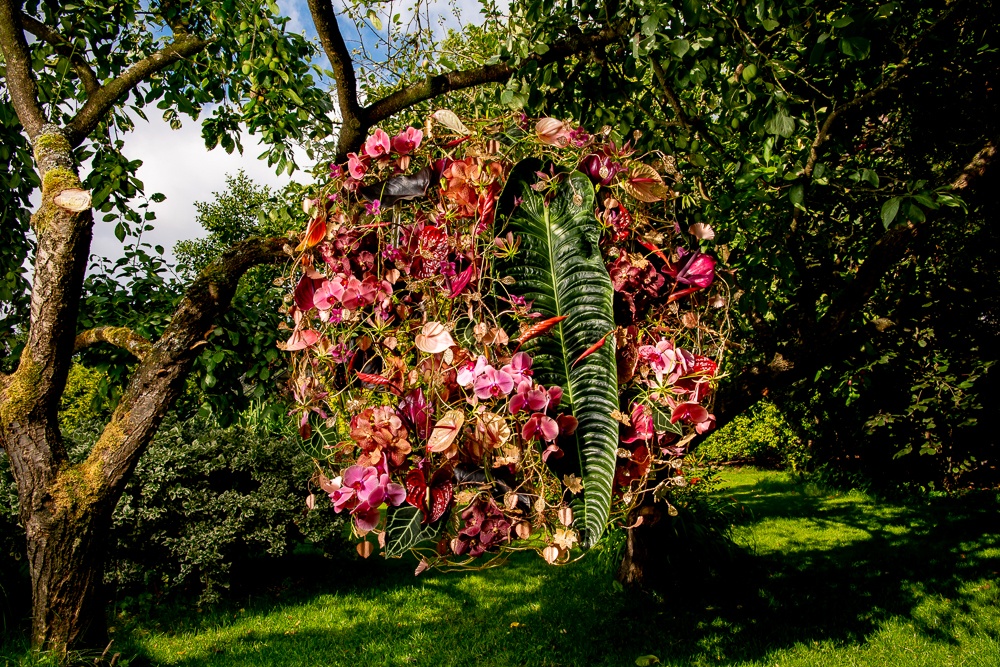 The real stunner is the large Anthurium leaf. It gets a lot of attention, but also gives balance in the design. I used at least 10 types of Anthuriums in this creation and added different types of Anthurium leaves. The piece has been complemented with Phaleanopsis, Vanda, Clematis, Gloriosa, Talinum Long John and various varieties of tendrils".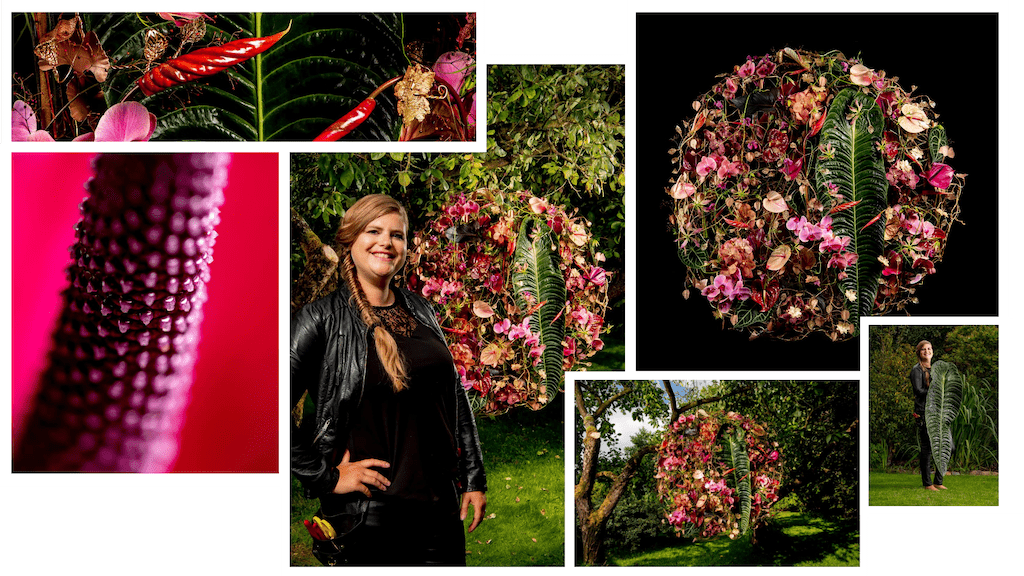 Floral design 2
"This arrangement is made on a piece of Oasis in a round shape which I covered with gold leaves. This form is very suitable for Anthuriums and I used many different types in this arrangement. I also used the Anthurium Clarinervum – with the stiped leaves – which is a very beautiful variety to use. In addition to the Anthurium and the leaves I also worked with Gloriosa's and Talinum Long John".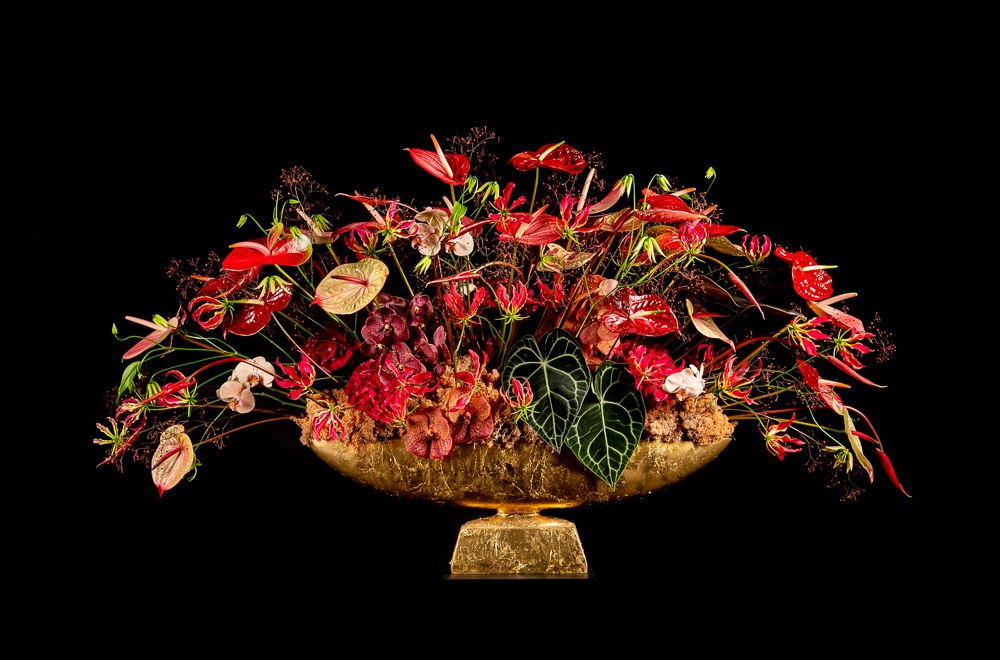 Floral design 3
"This bouquet is made of two iron rings surrounded by paper thread. These are tied together with rustic wire from Smithers Oasis.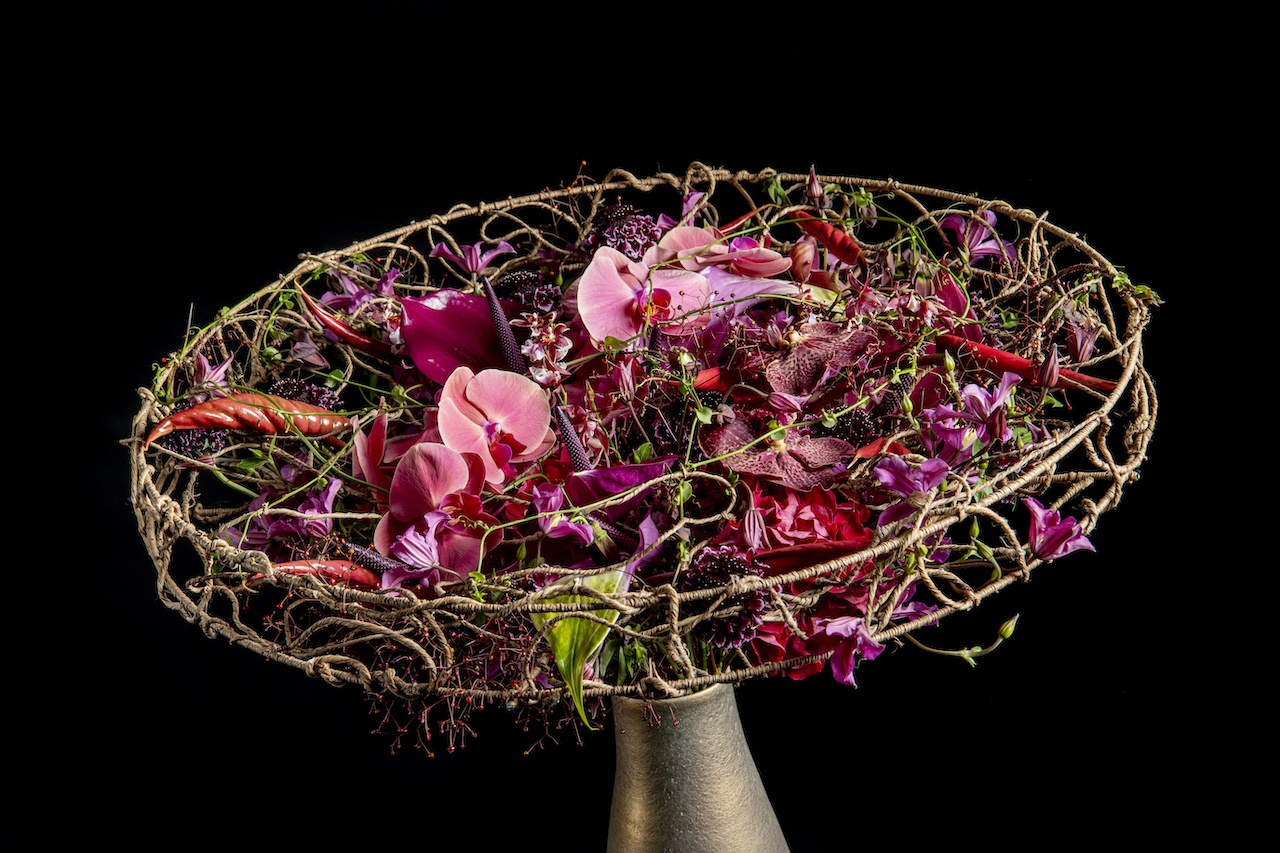 I incorporated a beautiful mix of fine flower varieties. The Anthuriums provide a nice balance in this bouquet because of their large and soft shapes".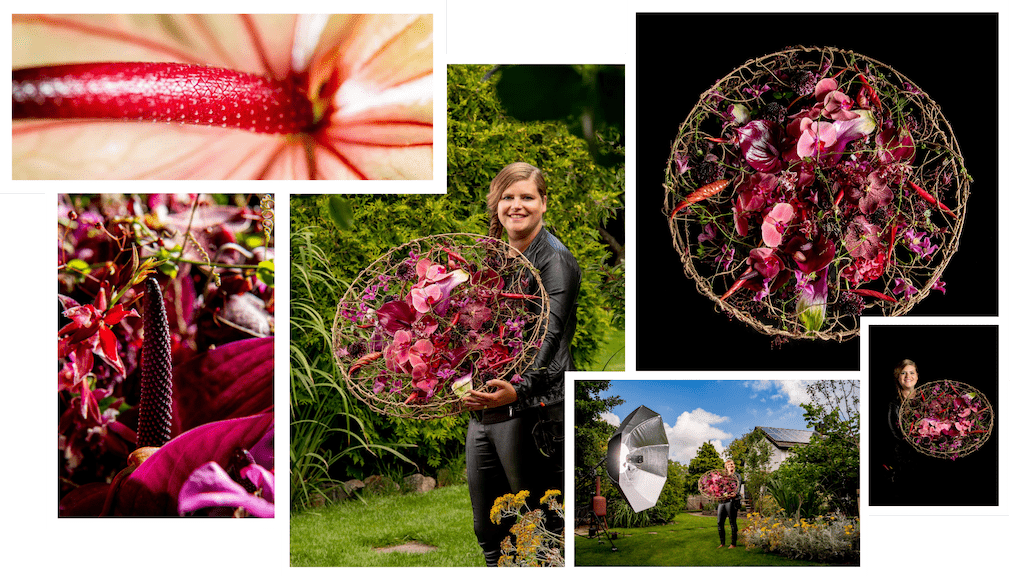 Want to see more of Hanneke? Then take a look at www.hannekefrankema.com.