Here are the newest Anthuriums
Several new Anthurium varieties have been developed lately. Each and every one is special, distinctive and useful for various purposes. Whether it be a grand plant arrangement or a modest bouquet. Here are the new Anthurium flowers and plants!
The newest Anthurium flowers
We'll start with the newest Anthuriums for cut flowers: five of them in total! These varieties are perfect for the latest trends such as 3 floral trends for the summer of 2020, as well as for use in the coming autumn season. There's something for everyone!
Olivius
The colour of Olivius® is, as its name suggests, olive green. This is a unique characteristic of this Anthurium cut flower, because there is no other variety with a similar colour. The flower adapts to bouquets like a chameleon and provides a remarkably beautiful presentation.
Cantello® Rolls
Cantello Rolls is the rolled up Anthurium cut flower Cantello®, that was introduced in 2018. They cut this Anthurium about 2 to 3 weeks earlier than the regular Anthurium cut flower, when it is still rolled up. The flowers do not open in the vase but remain rolled up during flowering. The effect is a pointed flower that fits well within current botanical trends. The flower stalk is very flexible, allowing the flower to be bent in different positions. This gives a creative and frivolous look to the arrangement in which the Cantello Rolls are incorporated.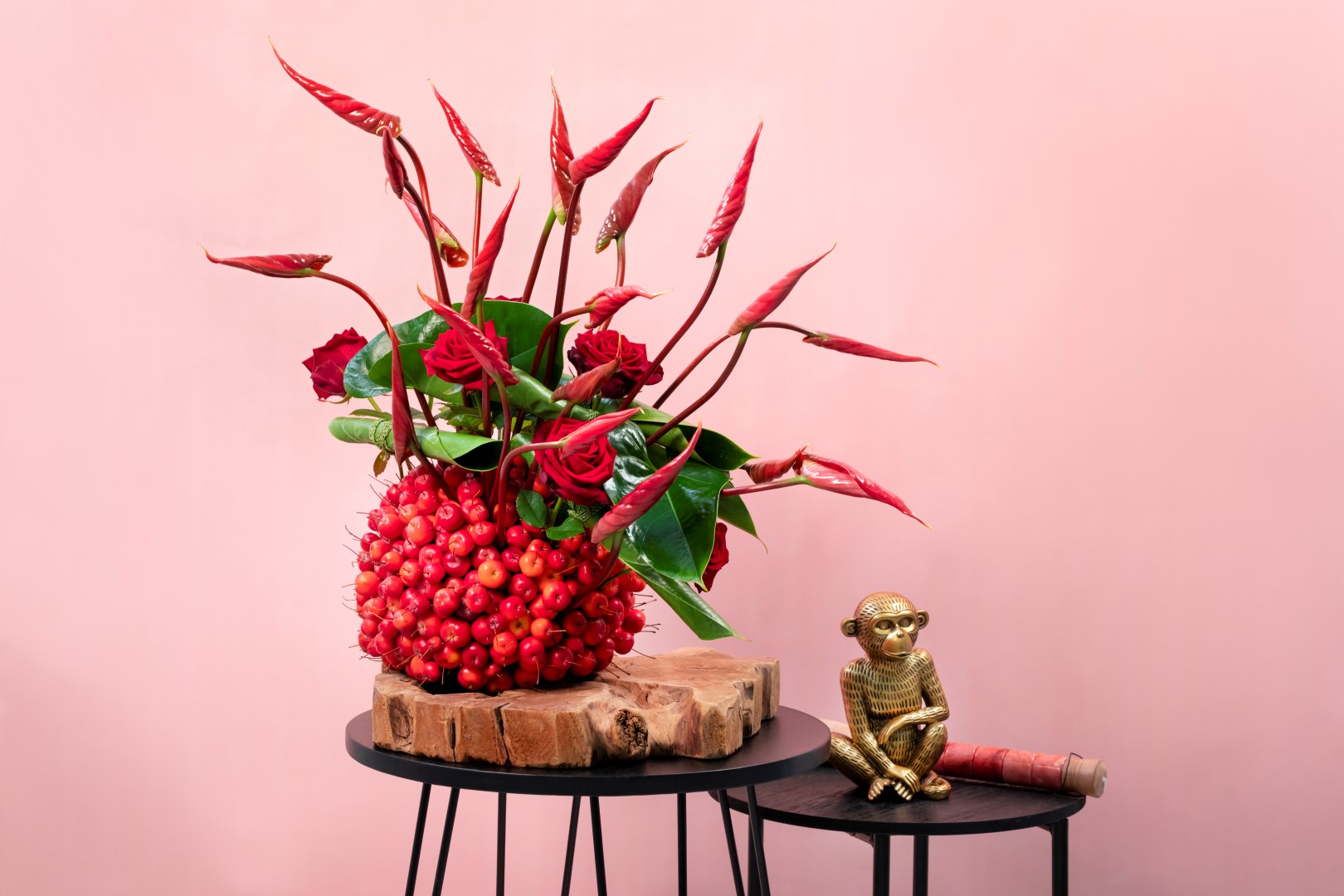 Grand Slam
Grand Slam is a green Anthurium cut flower that takes very bouquet to greater heights. The particularly fresh, radiant green colour ensures that every florist falls immediately for this new variety (Love). With Grand Slam they can create the ideal set of flowers in any style they want. Its excellent shelf life and transportation performance complete the picture to a total match. Quite rightly, Love, Set and Match!
Denali®
The white-green colour of Denali® is very popular amongst florists. Combines perfectly to many other flowers. Due to its size and shape, Denali® can be used solitaire (single flower/single vase) or for the bigger, impressive arrangements.
Cardinal
This two-tone colored flower has a special appearance with its yellow leaves and purple tip. The color of the spadix matches the tip of the flower perfectly and gives it a unique look.
Read also: Anthurium flowers in 3 entirely different interiors
The newest Anthurium plants
And then of course we have a selection of new Anthurium houseplants. From soft pink to bright red, from small to large. Everything passes. Read on for the new Anthurium varieties.
Joli Pulse
The colour scheme of Joli Pulse changes the longer it flowers and grows. The young, newly developed flowers are white and, as the flowers mature, the colour changes to pink and eventually to a fresh green. There is life in this new variety that gives further colour to the Joli series. The clearly visible vein on the bract gives the breed its name 'Pulse'. The flower is shaped like a heart. All these properties make buyers' hearts beat faster! 
Calon
This beautiful compact variety starts giving flowers at a young age and is therefore always in full bloom. It is available in various pot sizes, starting from pot size 6 to pot size 15. The flowers of the plant retain their color, so this plant brightens up any interior with its powerful red color.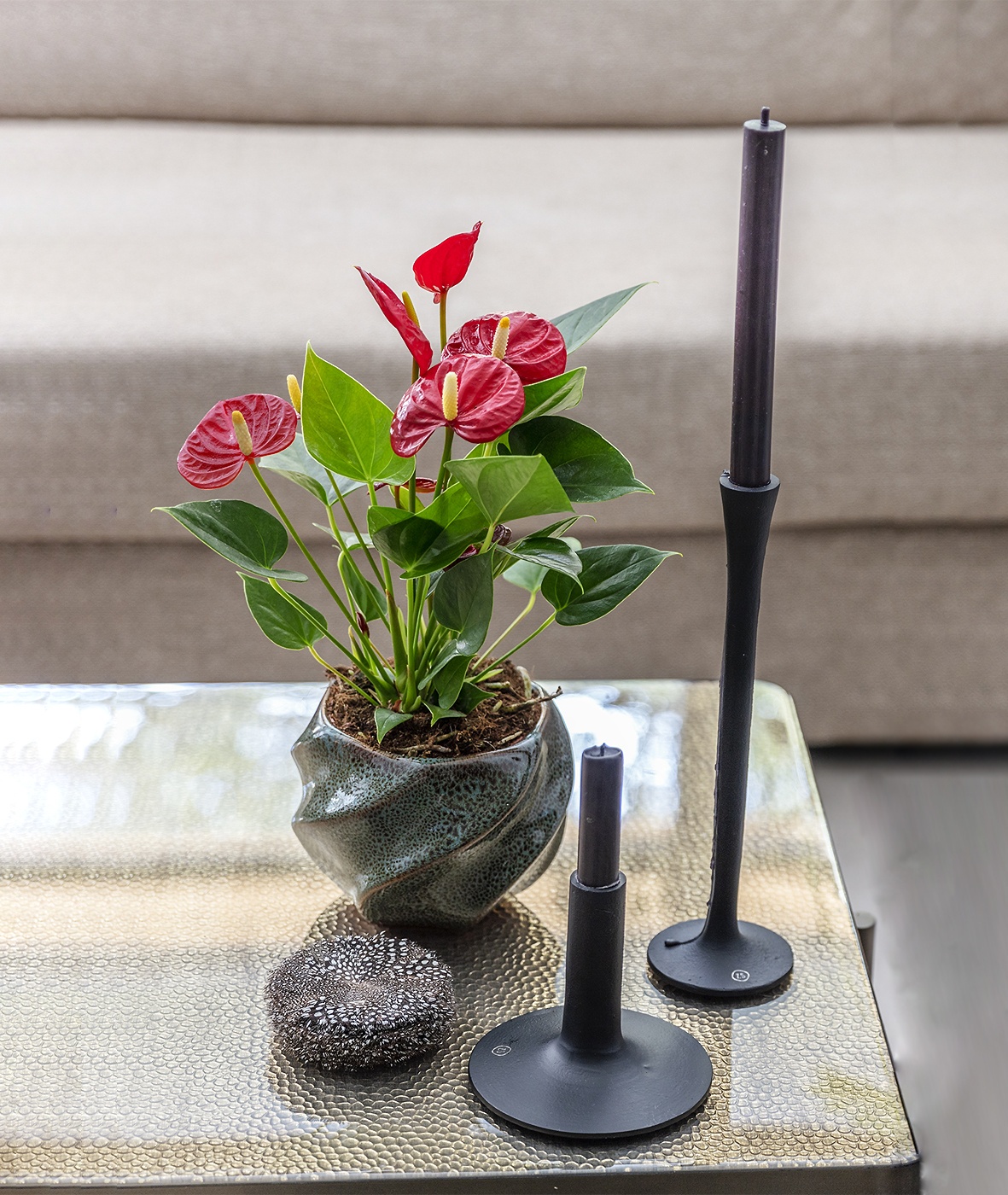 Nano Sweet
This is a little one: from the flowers and leaves to the plant size. Everything about this plant is small, even the pot size. The flowers may be small, but the shape and quantity make them immediately noticeable. The color is a bit more toned-down, pastel pink with a hint of green.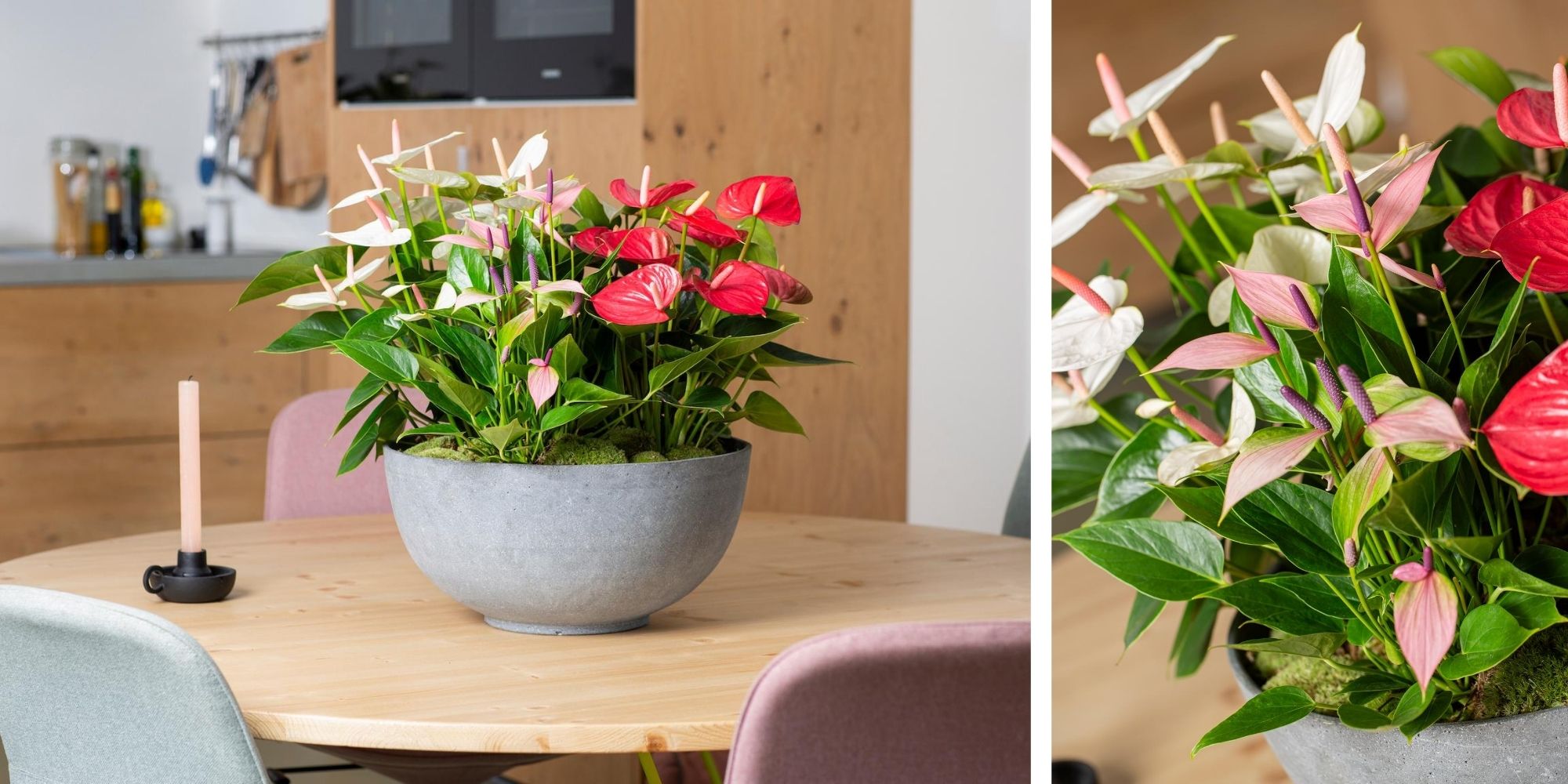 Spirit
Spirit®, with its eye-catching pink flowers is both lovely and striking. This compact Anthurium has a surprisingly large number of flowers. The different pot sizes make Spirit® a truly multi-purpose plant: there is something for everyone.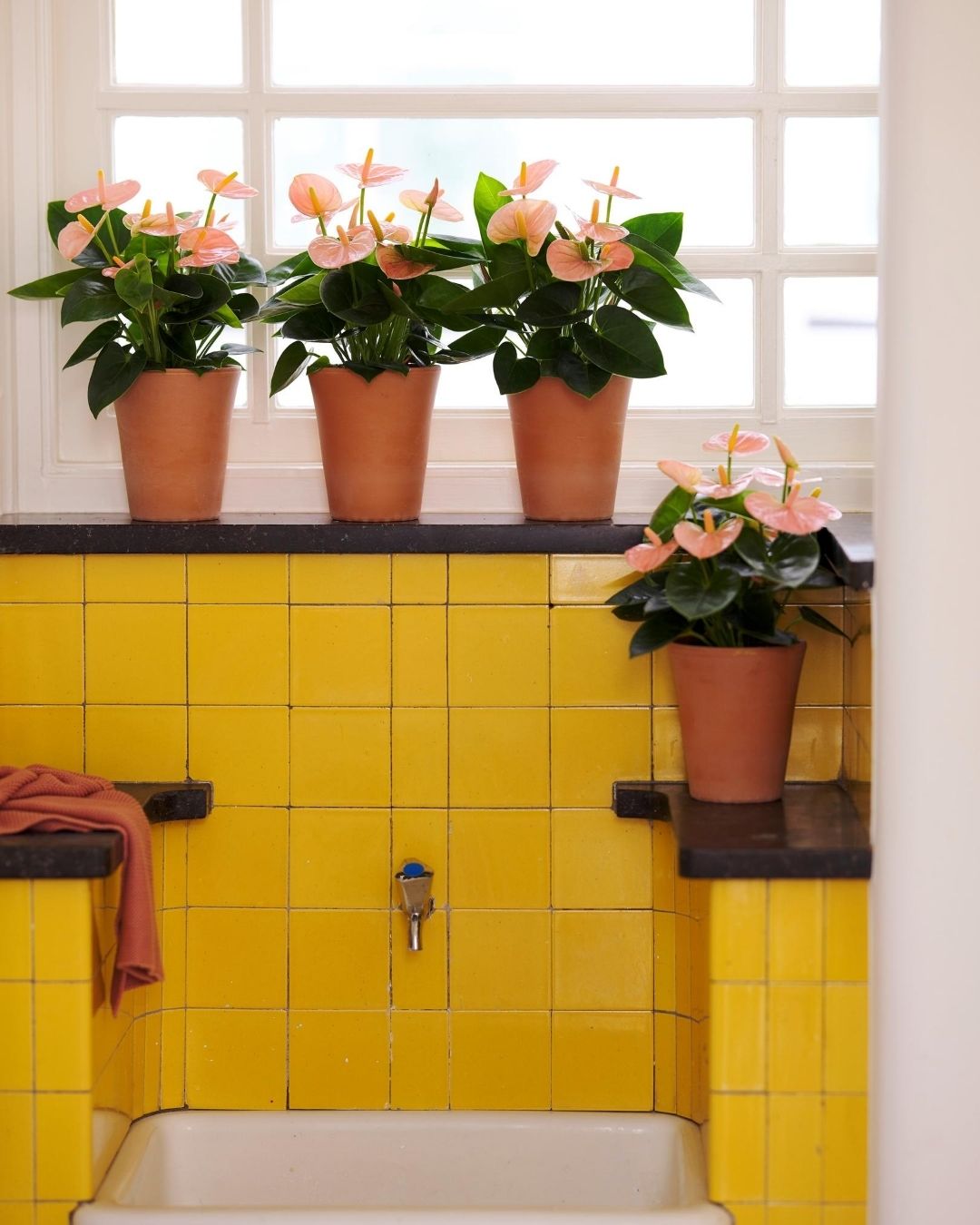 Red Bull
As the name of this plant suggests, it is an energetic but compact plant. The flowers are dark and shiny, which creates an intense red color. Thanks to the dark green leaves, the flowers stand out even more, and the size of the flower also contributes to this.
Koro
Heart in Esperanto. This powerful name not only stands for a strong plant but also for the warm atmosphere that the Koro can create in these winter months. With its beautiful saturated red color and heart-shaped flower, Koro brings new life into your home. Will keep blooming beautifully for months as long as you give her enough love from the heart.
Success White
White is a perfect basic color and fits in any interior. This is also the case with Success White, an Anthurium with beautiful dark green leaves and striking white flowers. A compact, full plant with many flowers. Easy to combine in your interior and to match with other plants in the house.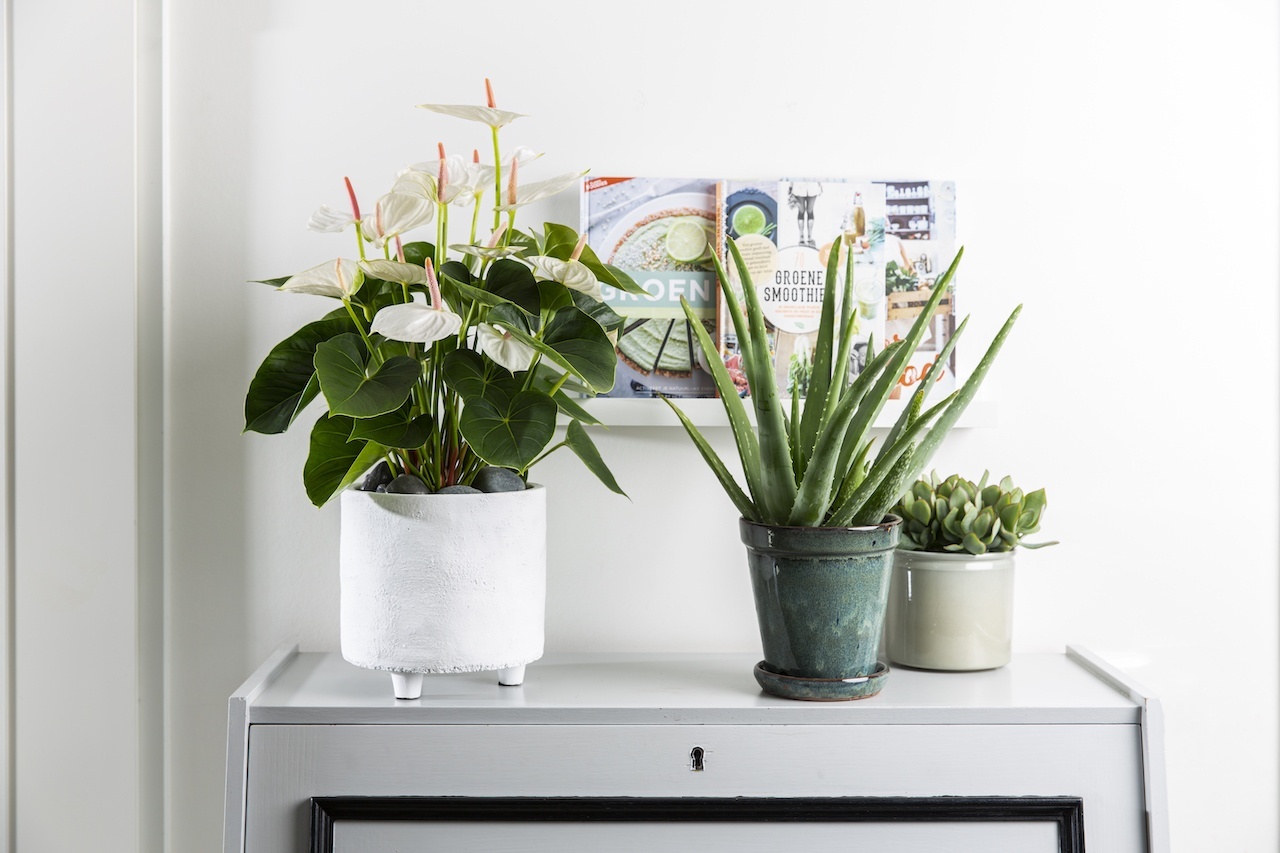 Whispering Love
Whispering Love fits perfectly into the botanical trend. The white flowers with a touch of green, making them less noticeable, but nevertheless beautiful. A nice addition to your urban jungle.
Success Pink
Love pink? Then Succes Pink is something for you! The flowers are completely pink and therefore stand out. A beautiful compact plant with large flowers. Success Pink alone is a real eye-catcher but can also be combined with other varieties such as Nano Sweet and Success White, which makes a nice mix.
Mystral®
Mystral® is like a powerful wind that is masterful and impressive. The huge number of flowers per plant will surprise many admirers and the ornamental value is therefore high.
Want to know more about Anthuriums? Also read: 5 interesting facts about the anthurium