Anthurium flowers in 3 entirely different interiors
To demonstrate the versatility of Anthurium flowers, we asked three bloggers to incorporate them into their own unique and entirely different interiors. One lives in a house decorated primarily in natural tones, another has an open space filled with rich materials, and the third focusses on a black and white plan complemented by vivid colors. It's intriguing to see how stunning cut Anthurium flowers look in all interior design styles! For a wealth of inspiration, take a look at these different interiors.
Also read: How should I care for my Anthurium?
In Judith Home's living space
Judith Home's living space has a warm and soothing feel to it. Natural tones such as browns, beiges and greys have the upper hand in this room. Behind the dining table, the leopard print wallpaper repeats the same colours while adding a playful visual effect. The use of natural warm materials including wood and bamboo make you feel as if you're entering a cosy room on a cold winter's day. The chairs, rug and candles enhance this feeling to perfection.
Judith arranged Anthurium flowers in various shades of red. Since each has a slightly different colour from the others, they make a dazzling display. Even so, they fit right into the look of the room because they repeat its existing wintery and natural shades.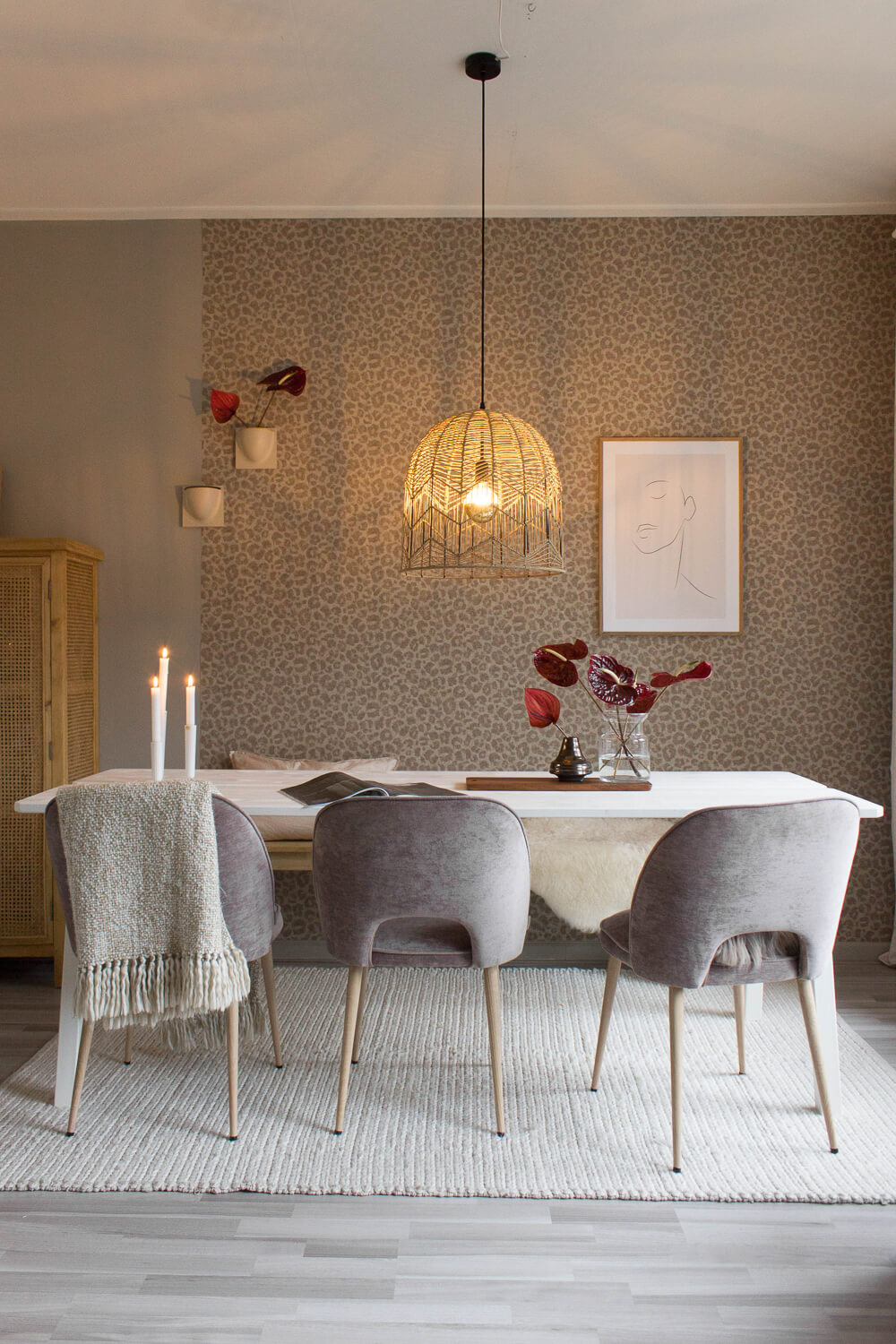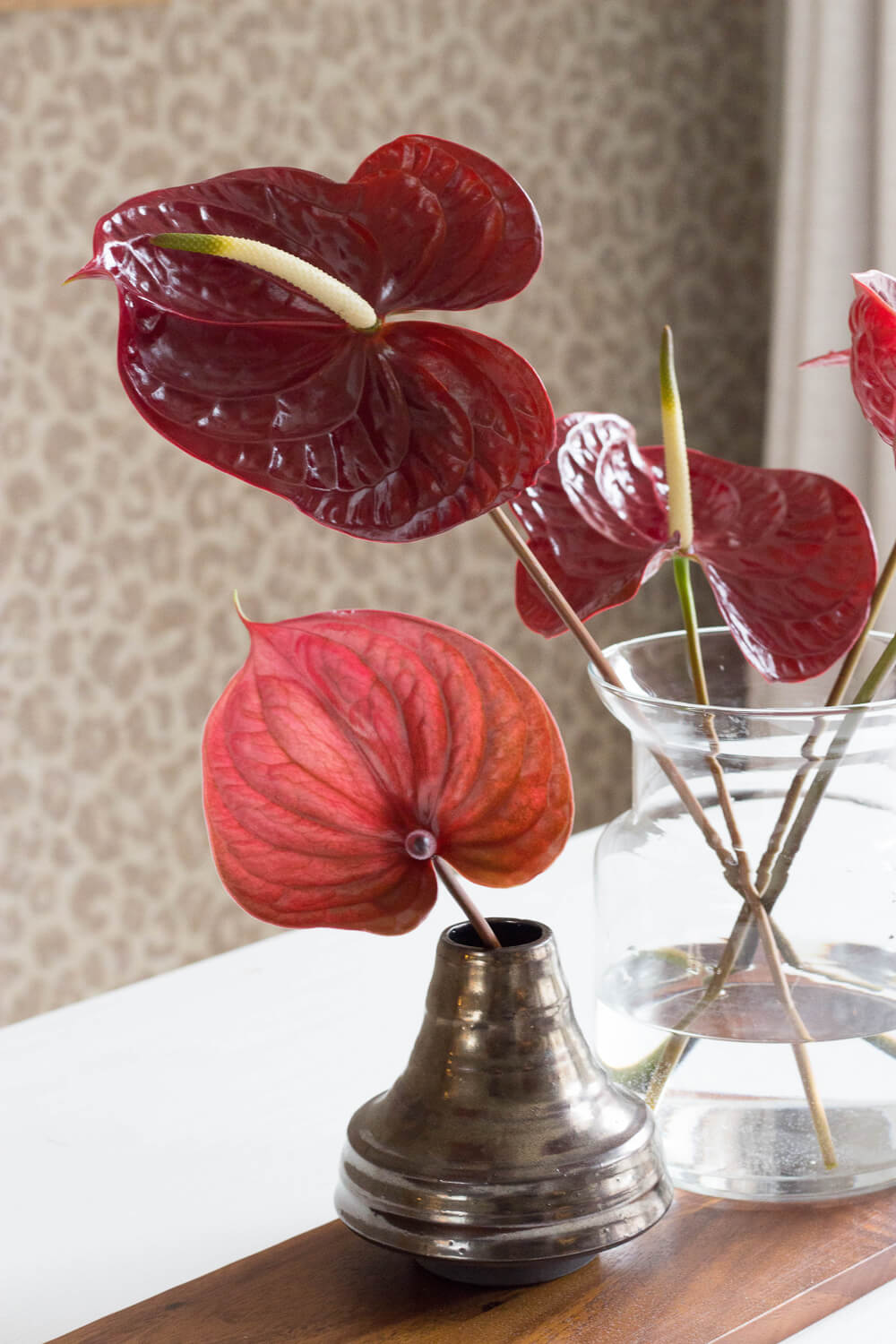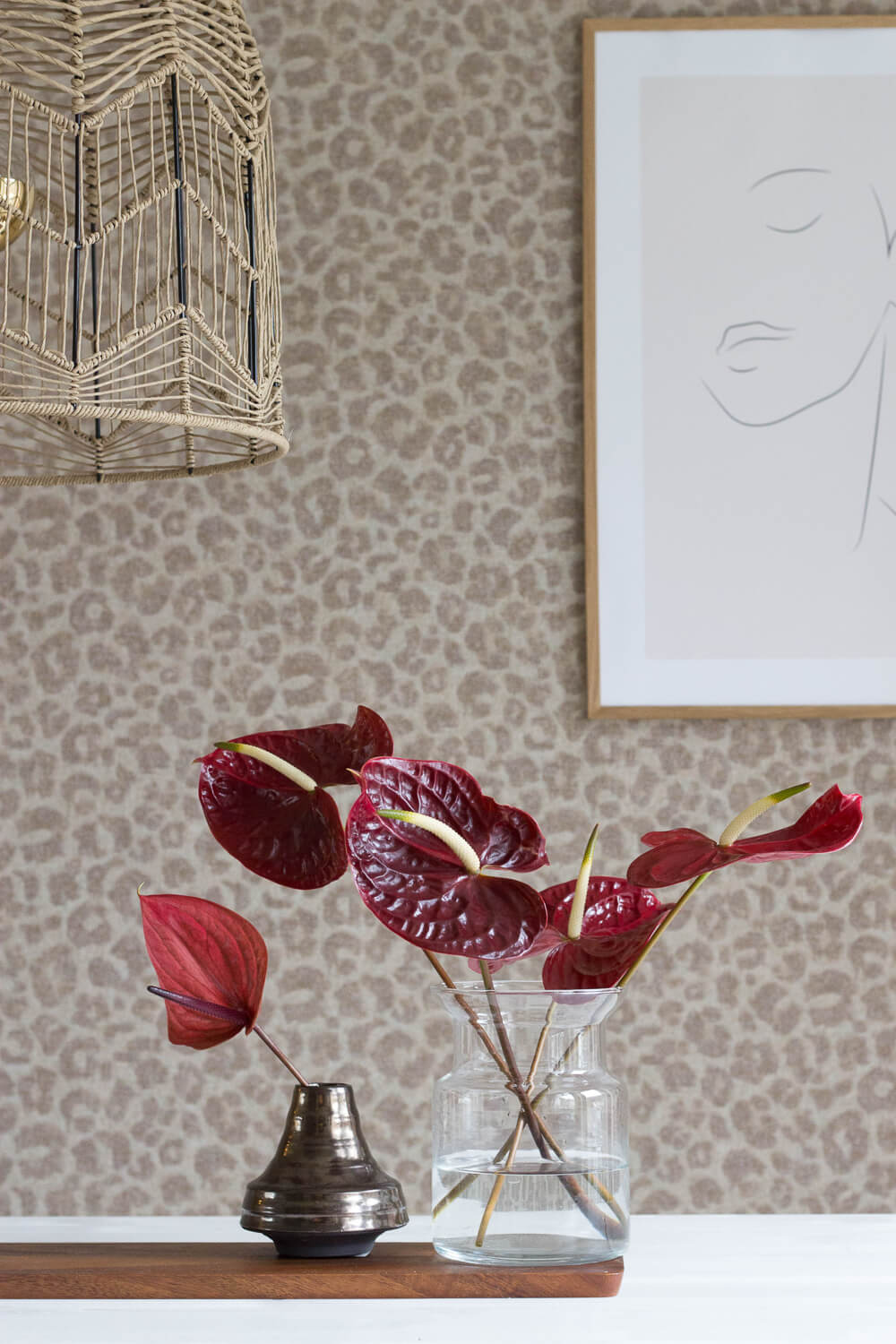 In Dutchguy84's interior
Klaas, also known as Dutchguy84, concentrated on using natural tones in his interior design as well, but in an entirely different way. Marble and glass are just some of the rich materials incorporated here. High ceilings and stained glass make the space feel large, open and bright. Transparent lamps and chairs enhance this effect.
The unique green and pink colours of these Anthurium flowers are the perfect choice for this room. Arranging almost all of them in transparent vases actually reinforces the open character of the space. And the use of several vases in different heights creates a whimsical effect. The colours of the flowers not only make them stand out in the room, but their light pink shades are also repeated in the stained glass behind them. They make a fresh and appealing statement in the kitchen!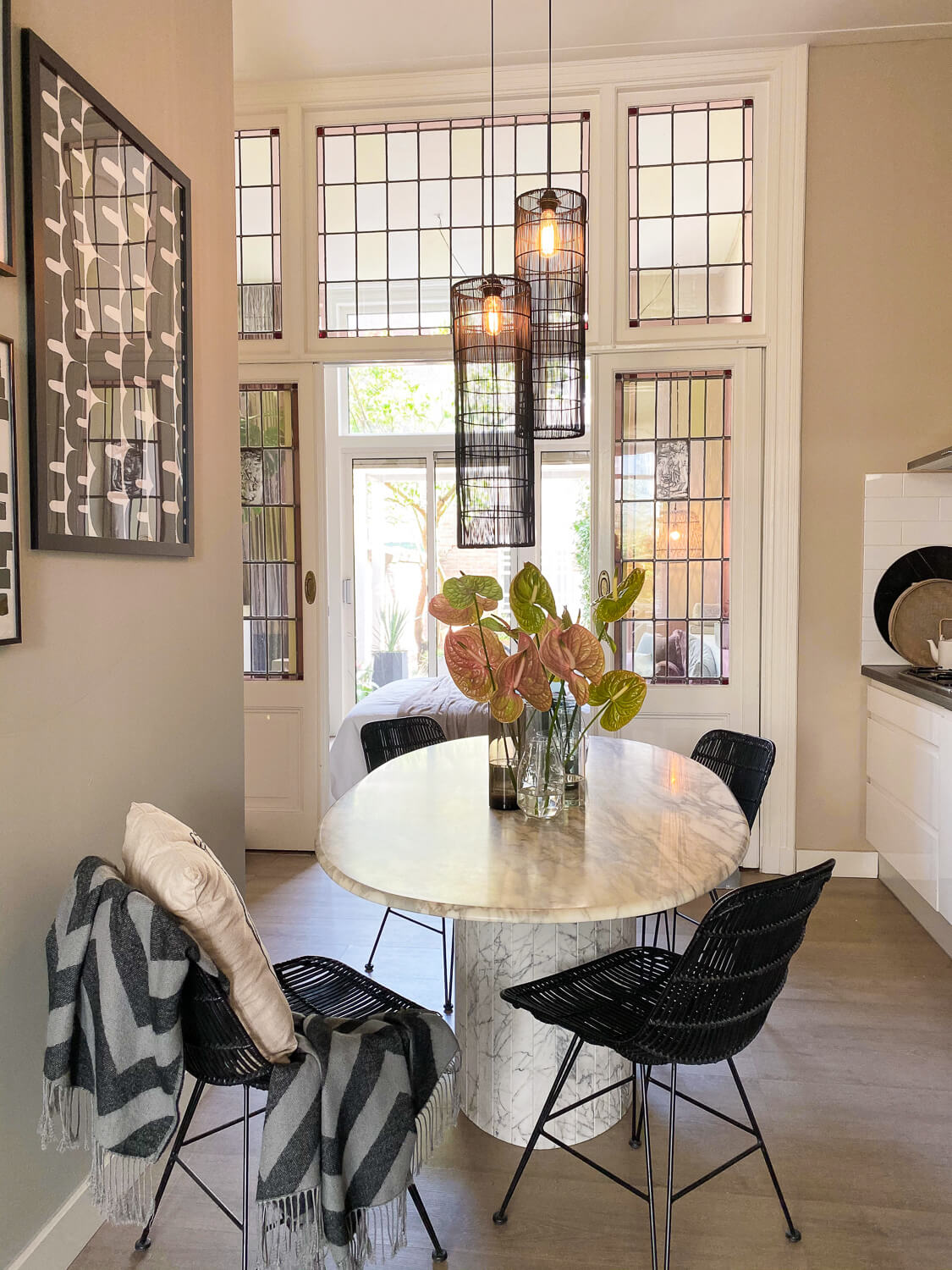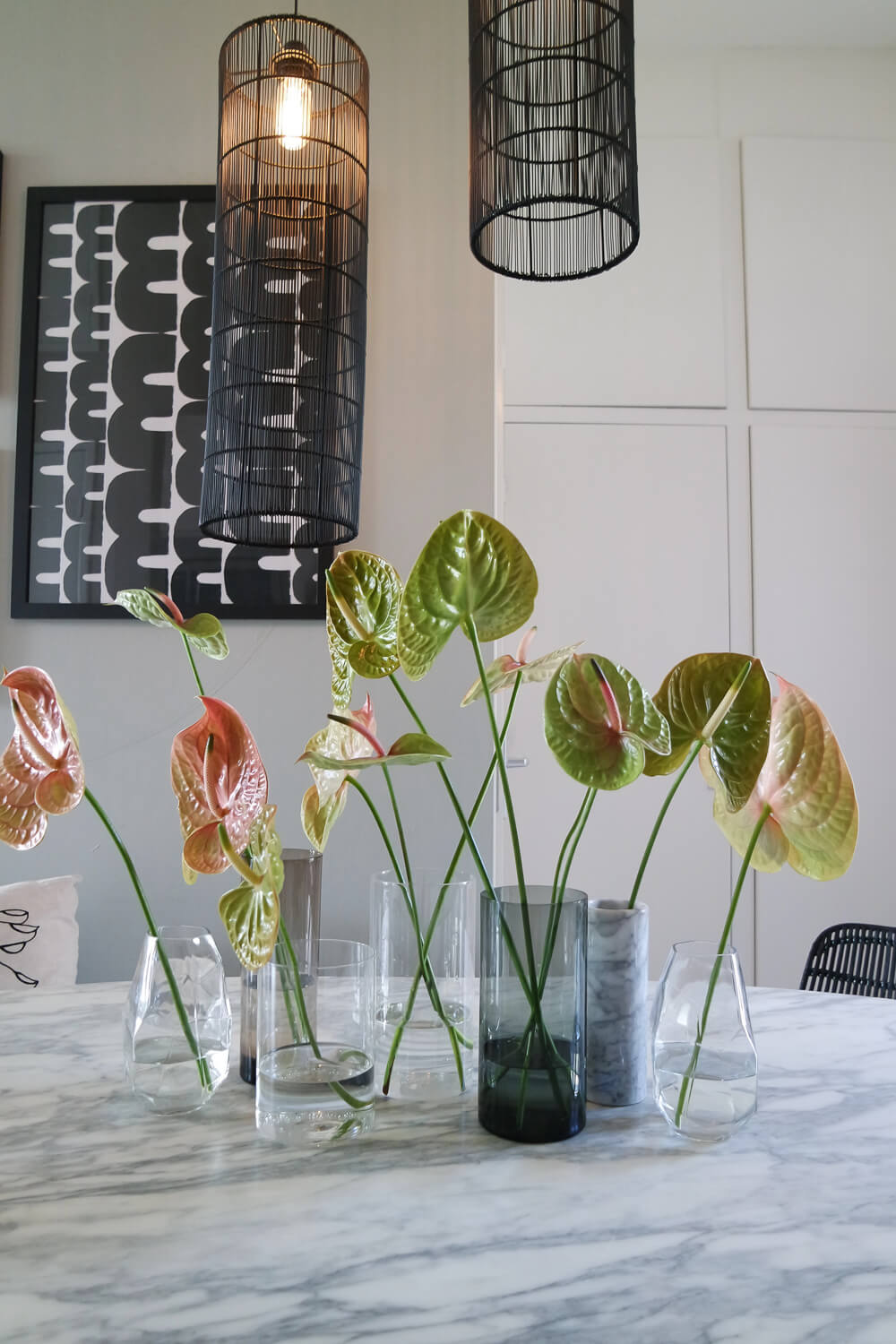 In PRCHTG's interior
Fleur and Jessica, the two PRCHTG bloggers, like to use unusual colour combinations. Fleur's style of interior design focuses primarily on black and white with bright accent colours in the form of paintings, painted surfaces or flowers.
So it's no surprise that Fleur chose to use Anthurium flowers in a whole range of pinks. From orange to deep purple, they really make this kitchen pop! It's a combination that may have been absolutely not done until recently, but what a stunning display it makes here. The rounded shapes of the vases provide a playful contrast with the straight flower stems.