DIY: Amanda displays Anthurium in an original pot
Do you already know the Instagram account MijnHuisje? Amanda is the person behind this account. She lives in Dronten with her husband and one-year-old son. This creative lady's interior design style is a mix of modern, contemporary and Scandinavian. She was looking to add a tropical feel to her home, so she went to work with Anthurium. She gave the plants a spot on her dining table and in the bedroom.
Tropical feel with Anthuriums
Amanda finds inspiration for her interior styling everywhere. On Pinterest and Instagram, for example, but also offline in home furnishing shops. Amanda is also always brimming with ideas, and she is not afraid to incorporate some colourful accents in her home. Plants like Anthurium are perfect for that, and colour combinations like green with pink and orange with pink make Amanda very happy.
Handmade pot
For her Anthurium on the dining room table, Amanda turned a simple rattan basket into a real eye-catcher. A handmade pot like this not only cheers up your own home but would also make an excellent gift for a housewarming, Mother's Day, birthday or any other celebration!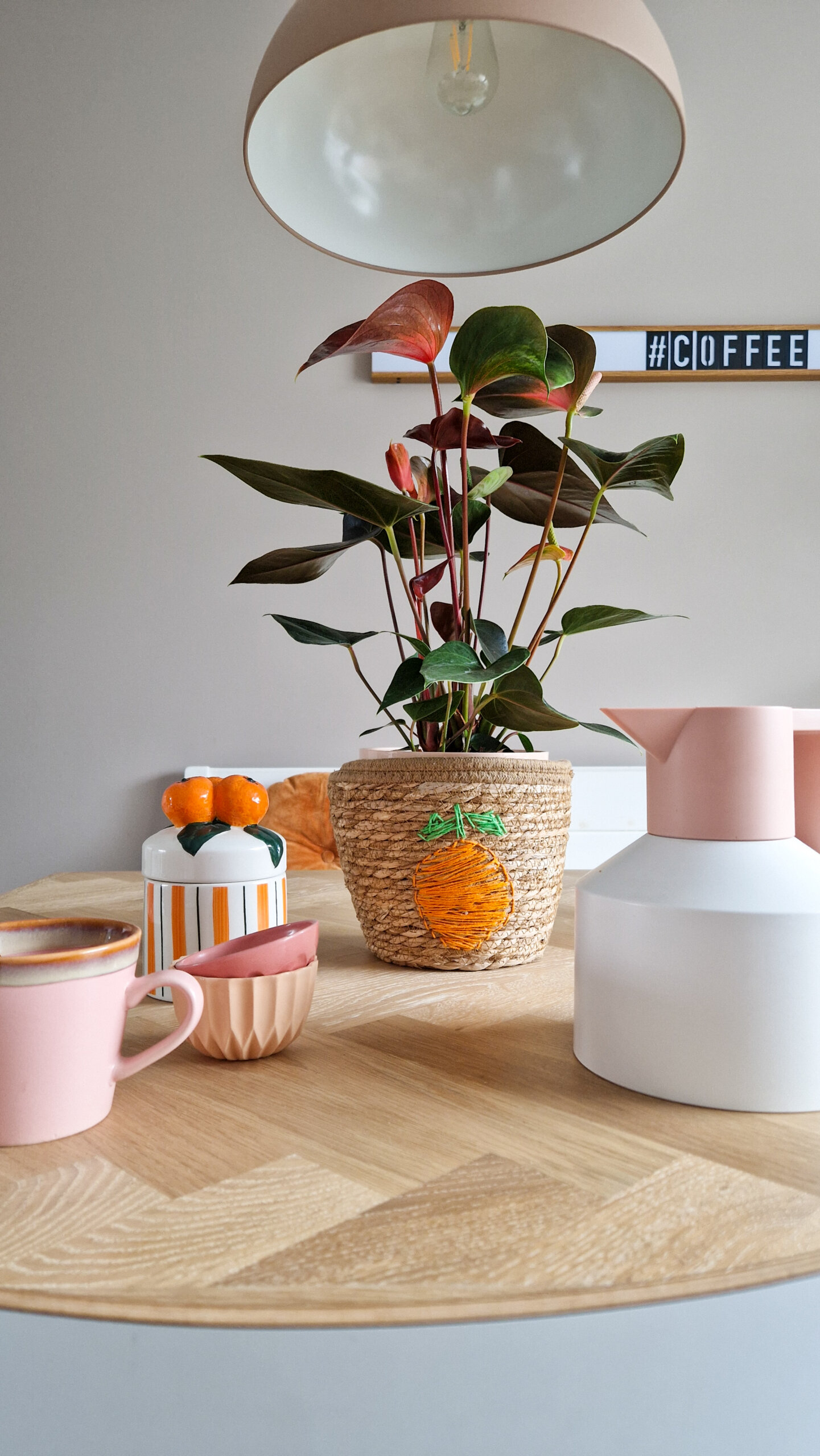 Amanda embellished the basket with a sunny orange, using orange and green embroidery thread and a needle. Next, she adds her Anthurium. Since the basket is not watertight, she has put the plant in a ceramic pot. Although Anthurium is a very simple and strong plant, you will need to water it regularly. A generous splash about once a week should be enough. If you are not sure, just feel the potting compost to see if it is moist enough. If that is the case, there is no need to water the plant.
Dit bericht op Instagram bekijken
Fresh air
Amanda also displays some Anthuriums in the bedroom. Given the plant's air-purifying properties, this is an excellent idea. Chemical pollutants in the air (for example from curtains, carpets and the television) are then filtered out and converted into oxygen.
If you are curious about Amanda's interior, be sure to follow her on Instagram via @MijnHuisje_. We are fans! If you want to find out more about the Anthurium's air-purifying properties, please visit www.breatheandbloom.info.