Here are the 10 newest Anthuriums for use as pot plants and cut flowers
Several new Anthurium varieties have been developed lately. Each and every one is special, distinctive and useful for various purposes whether it be a grand arrangement or a modest bouquet. To keep you both informed and inspired, here are the 10 newest Anthurium varieties for use as pot plants and cut flowers!
The newest Anthuriums for cut flowers
We'll start with the newest Anthuriums for cut flowers: seven of them in all! These varieties are perfect for the latest trends such as the Pantone colour for 2018 and the Punk Rebooted trend, as well as for use in the coming spring season. Something for everyone!
Marea
Marea is a special tulip-shaped flower with a vintage colour combination. The flower's basic colour is green but this changes to pink over its vase life. The vintage look is provided by its darker pink veins. A flower diameter of around 13 cm makes it ideal for use in bouquets!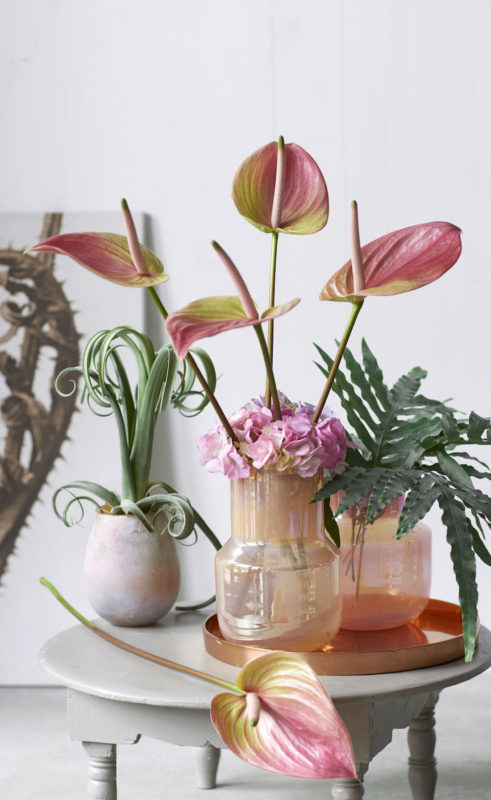 Kaseko
Anthura, its producer, was inspired to name this cheerful Anthurium after Kaseko, a musical form that sprouted from New Orleans Jazz combined with South American music and Calypso. Kaseko is a variety with especially unusual flower shapes. Its stunning two-tone flowers display a fresh yellow/green colour combination with a pink/red lip which is also repeated in the colour of the spadix. The diameter of the flower averages 13-15 cm. Kaseko's motto? Keep on dancing!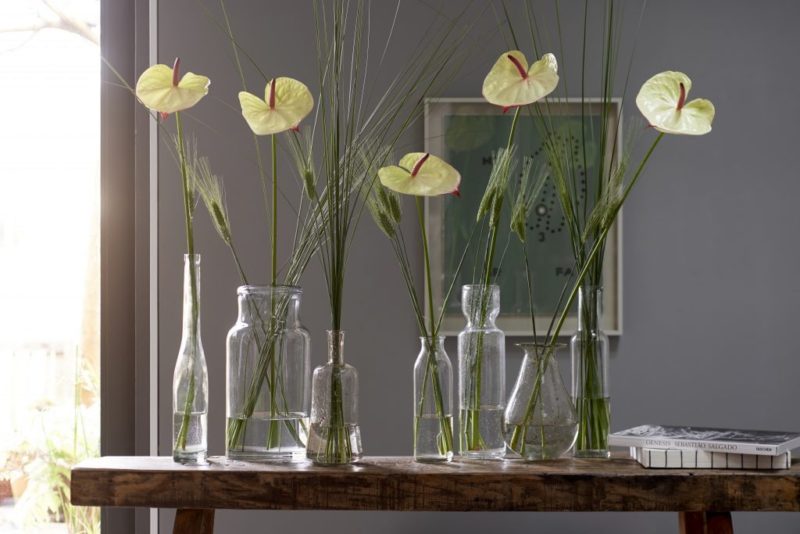 Aspire
The popular white Anthurium varieties have now been joined by a truly elegant cultivar! The snow-white colour and green spadix of Aspire give it a very fresh look. Its beautifully shaped flowers have a diameter of 13 – 15 cm.
Impulz
Impulz has raspberry-red flowers and a spadix in the same spectacular colour. The flower has a beautiful natural shine that makes it look – and feel – extra special. The Impulz variety has a flower diameter of 13-15 cm.
Showtime
Showtime was inspired by the world of glitter and glamour. Its intensely attractive gloss, almost black colour, and white spadix with a green tip are definitely enough to steal the show! This variety is a perfect fit for expressing 'Punk Rebooted' a trend presented by Flower Council Holland which, in terms of interior design, means a rugged look for indoor spaces, products displaying crisply defined shapes, unpolished industrial materials, and contrasting colours with lots of black and red used as a statement. Showtime will definitely be playing a leading role in this trend in 2018.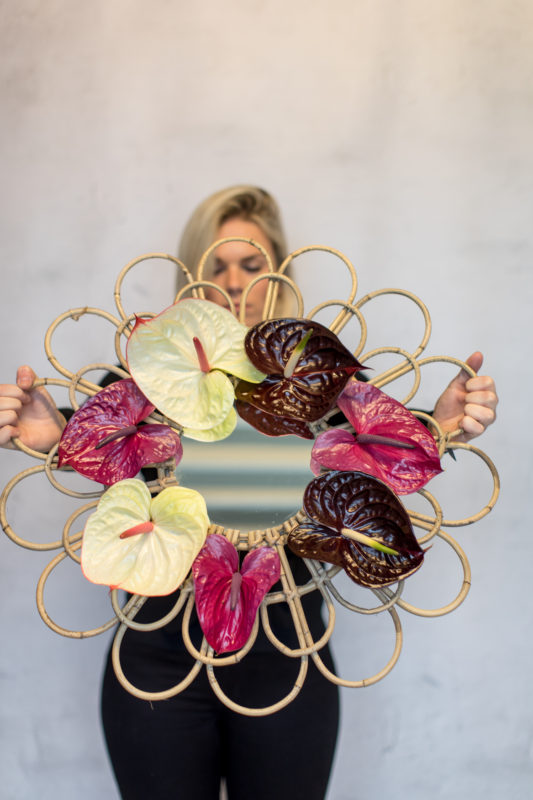 Also read: 6 ways to use the Pantone trend colour of 2018 in your home
The newest Anthuriums for use as pot plants
Trends are also considered when developing new Anthuriums for use as pot plants. Ultra Violet, the trend colour for 2018, is represented here as well as both an especially-for-spring red and a classic red.
Zizou
Zizou is a promising variety that's whimsical and small in stature. This Anthurium plant, which is part of the 'Small is the next Big Thing' assortment, has deep purple and narrow, ribbon-shaped flowers and excels for use in small pot sizes (7, 9 cm and 12 cm).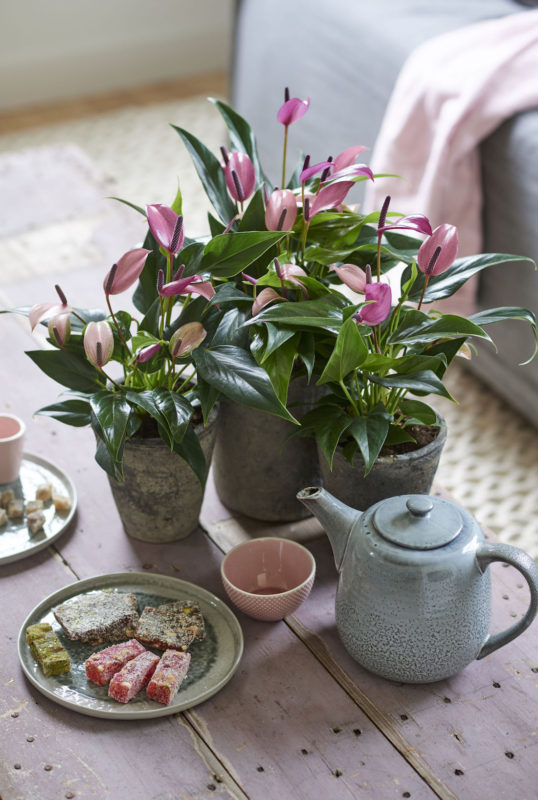 Colorado
Colorado is majestic, spectacular and prominent. The size of the flowers in particular is sensational. As a member of the Big Americans series, the pink newcomer has to uphold a grand image. The plant is both heat and cold tolerant and suitable for the bigger pot sizes.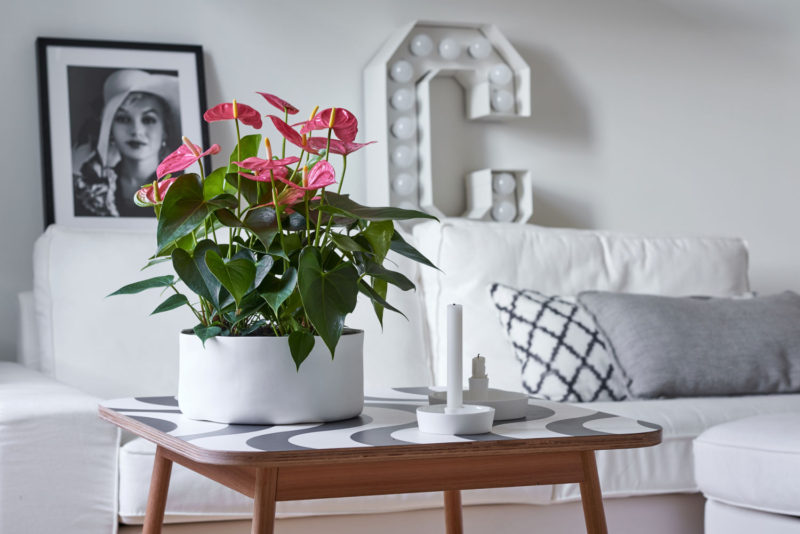 Lilli
Lilli has an abundance of narrow, pink ribbon-shaped flowers that give the plant a really lush look. It is a real distinct Anthurium that you probably wouldn't recognize as an Anthurium at first sight. Lilli deviates in a positive way due to her special, vertical flower. Its small flowers are exactly the colour of a pink macaroon: very sweet and even adorable. This is a must-have variety and absolutely perfect for high-end floral decoration.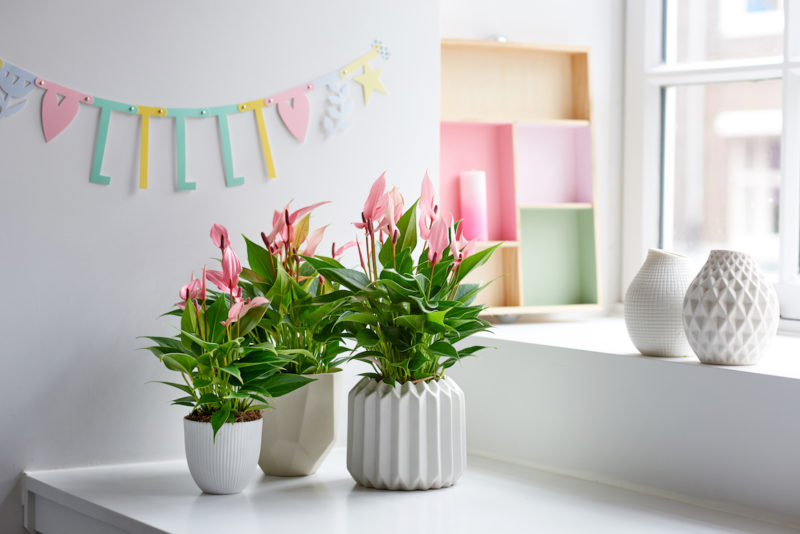 Rustica
Rustica is a pot Anthurium with a stunning deep red colour that nicely brings out the relief on the surface of its flowers. The use of Rustica is intended to increase a sense of contrast and provide, as its name suggests, a rustic look. Its proportionally large flowers and its large numbers per plant easily provide volume. Suitable for all pot sizes, this plant is a real all-rounder!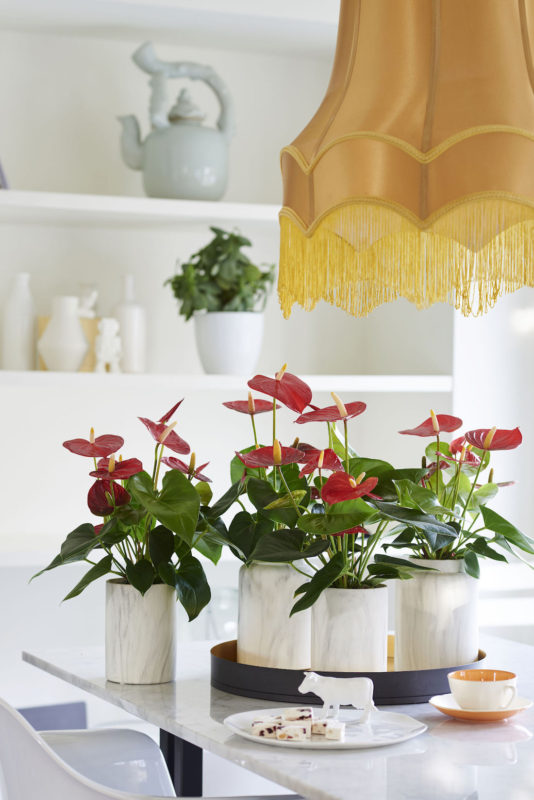 Want to know more about Anthuriums? Also read: Five interesting facts about the anthurium