Interior inspiration by blogger Styled By Sabine
Do you love a colorful and bohemian interior style? Styled by Sabine is an interior stylist and blogger, and gives you plenty of green inspiration! She took pictures of her interior with Anthuriums especially for Anthurium Info, which you can see on our social media channels in the near future. But first we asked her a few questions about her interior!
Styled By Sabine
Where do you get your interior inspiration?
"Everywhere! It can be a pretty picture on Instagram, but I love scrolling through all the beautiful interior photos on Pinterest too. I also get inspiration in thrift stores. I like to shop there and can suddenly get a lot of inspiration when I find a painting, crazy lamp or sculpture. Then I immediately want to adjust my interior accordingly."
Also read: 8x how to style Anthuriums in a bohemian interior
What's your favorite color?
"Pink! At the moment, I love the combination of pink and green. I recently painted the kitchen light pink and combined this with a beautiful moss green color on the wall. I also painted the staircase pink and combined it with a green floral wallpaper. "
How many plants do you have at home?
"Haha, I have no idea! About 50?"
How much time per week do you spend on plant care?
"That depends on the season. In the winter, I do a round once a week to check which plants like a bit of water. In the spring I can spend quite some time on it, because I want to provide all plants with new potting soil, take cuttings, feed them, etc. "
Also read: How to take care of an Anthurium pot plant and cut flower
How often do you have flowers at home?
"Less often than I would like! Now I have to admit that our house is so full of plants and vintage finds that I sometimes don't even know where should I put them. I love a fresh bunch on the table every week, but it doesn't happen very often. But I'm always very happy when I get flowers and luckily my friends know that too. 😉 "
What does the anthurium remind you of?
"It gives me of jungle vibes! The combination of green with the brightly colored flowers also looks great with other green plants and makes your home an urban jungle."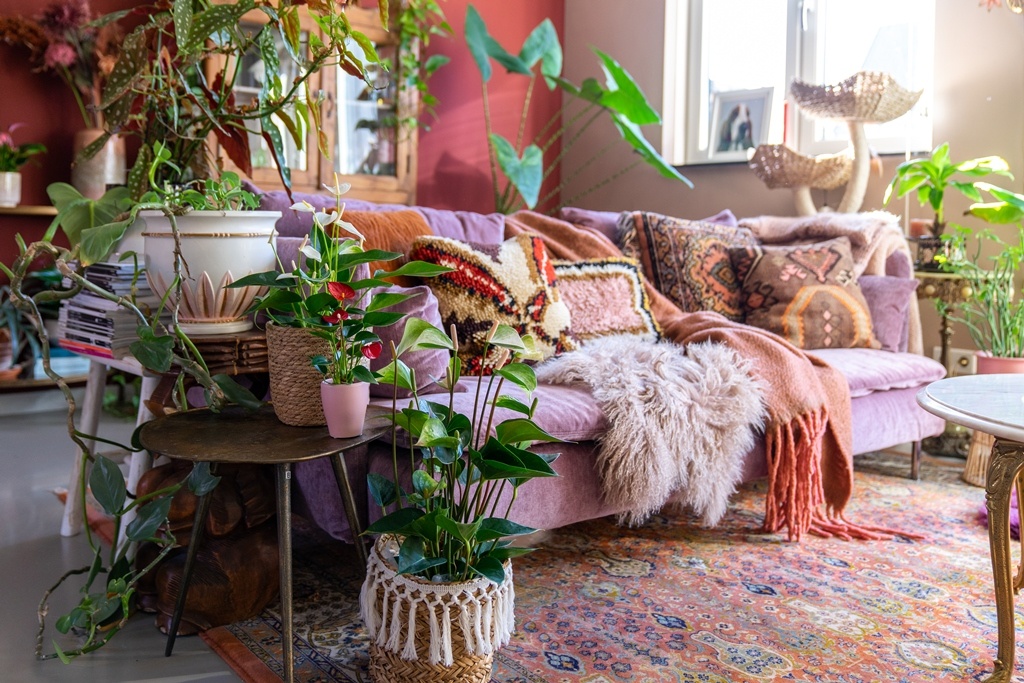 What is your styling tip for flowers?
"Instead of placing all the flowers in a large vase, I like to divide them over several small vases. This way you can enjoy the flowers in several places in your living room."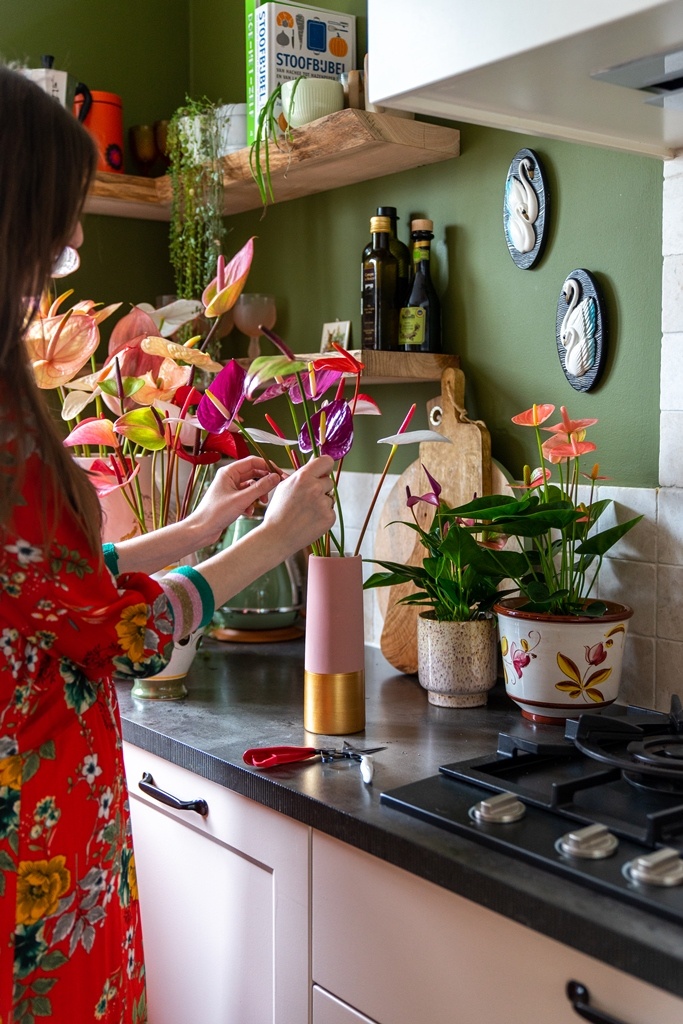 How do your dog and 2 cats deal with the plants and flowers in the house?
"I always advise people to pay close attention to whether houseplants are safe for pets. Fortunately, in our case, this isn't necessary, because both the cats and the dog never touch the plants. So fortunately I can place unlimited plants and flowers. "
Would you like to see more of Sabine's interior? Follow Styled by Sabine on Instagram or take a look at her blog.