How to brighten up your home office with colorful Anthuriums
Now that working from home is here to stay, and most people want to invest in a good home office, the time has come for the finishing touch for your home office: houseplants! So here are some of our tips to brighten up your home office with colourful Anthuriums.
Colourful Anthuriums for a healthy indoor climate
Research shows that greenery makes people happy. And bringing a piece of nature into your home will make you feel a little better straight away. Plants help you concentrate, boost your creativity and give you peace of mind. Try to decorate your home office with plants that also help create a healthy indoor climate, like Anthuriums – also known as the flamingo flower. Recent research by Wageningen University & Research (WUR) shows that this houseplant has excellent air-purifying properties. What's more, the flamingo flower is brimming with colorful, heart-shaped spathes.
Air purifying
The flamingo flower absorbs harmful substances from the air through its green leaves. These are stored and broken down in the plant and the root system. WUR has measured in a test environment that Anthuriums filter more than 50% of harmful substances from the air within 24 hours. After three days, this is almost 100%. It's Important to note that the more plants (or the bigger the plant), the stronger the effect. Flamingo flowers also improve relative humidity, so that you are less likely to be affected by a dry indoor climate. In a healthy indoor climate, you are less likely to suffer from headaches, dry eyes, or a lack of energy. Plenty of reasons to decorate your home office with colourful Anthuriums. But how? We have some tips for you!
Also read: 7 beautiful ways to display your plants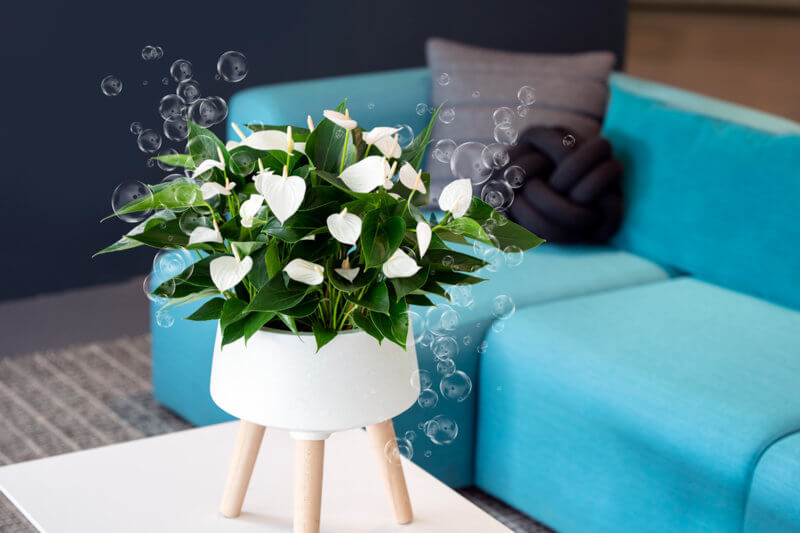 Grouped together
Whether you have a proper office space at your disposal or you work up a sweat at your kitchen table: green comes in all shapes and sizes, so it is always a possibility. Why not arrange your plants in groups on your desk in groups? Variety is all the rage, so mix those beautiful pots and plants to create a perfect balance. On the table, suspended, in the bathroom, kitchen or office… Wherever there is natural light, there is always room for Anthuriums.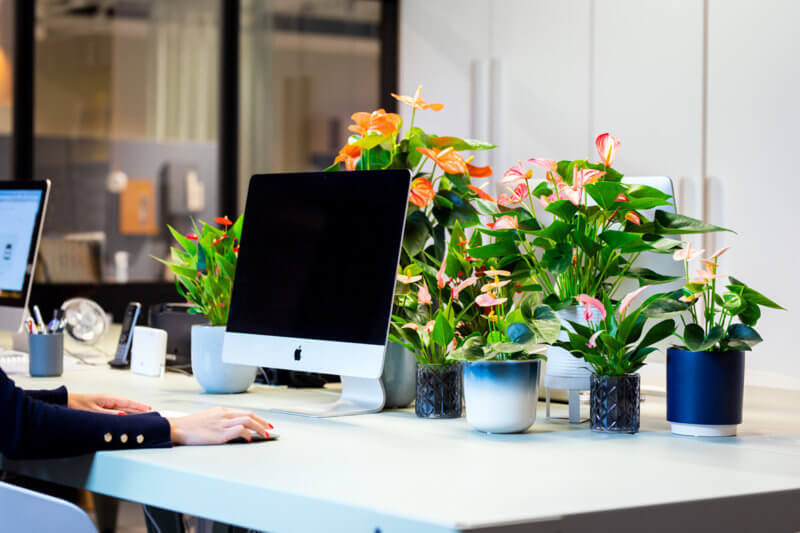 Also read: 3 ways to update your interior
Mix & match
Whether you want to keep it modest or opt for lavish and grand: the choice is yours. For a playful look, choose large plants in varying heights. You can, of course, also combine Anthuriums with leafy green plants. The heart-shaped spathes will provide a splash of colour and stand out even more.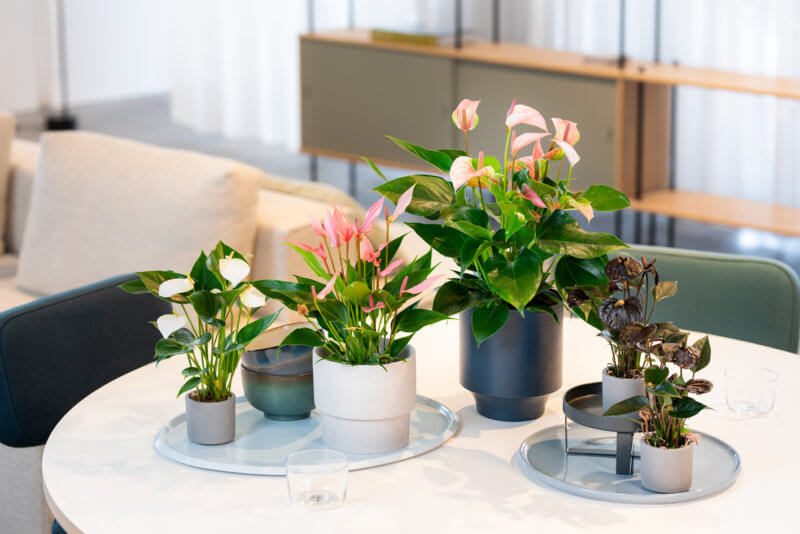 A happy face
Flamingo flowers add a cheerful touch to the interior and radiate positive energy. Make things look extra bright by opting for striking decorative pots, in the shape of a face, for example. The leaves and flowers of the Anthurium then become the 'hairdo'. Talk about a happy face…!
Jungle plants
You could also create an extra-green atmosphere with a 'jungle corner'. Why not try grouping plants together? Choose different decorative pots and alternate large and small flamingo flowers in different ton-sur-ton colours. This creates a playful effect.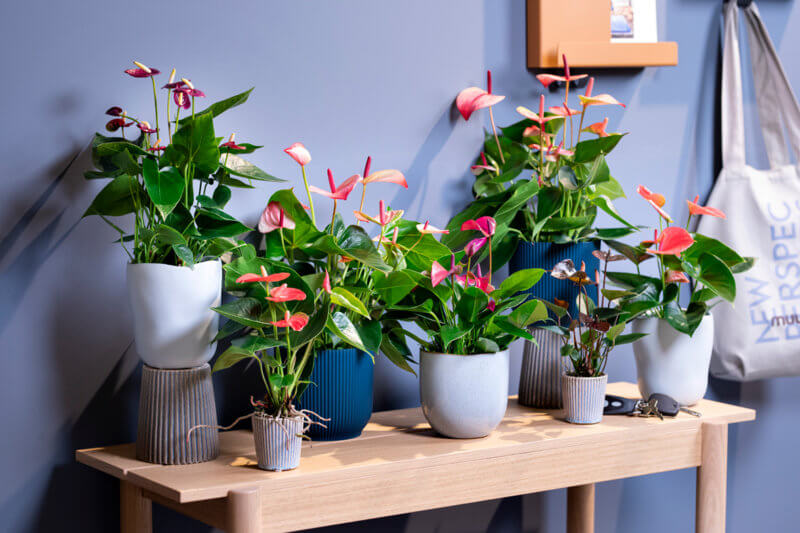 For more information about air-purifying Anthuriums, visit www.breatheandbloom.info or follow us on Instagram via @anthuriuminfo.