The interior design trends for 2020: warm, green & natural
Happy New Year – happy new home! While the end of the year is often a time to look back, the beginning of a new year is the perfect time to look ahead. And what could be more fun than doing this with the trends for the coming year in mind? This article tells you all about the interior design trends for 2020 to get you inspired and spur you on. Have fun!
The interior design trends for 2020
Warm
Last year, Spiced Honey was named the colour of the year and we'll keep seeing it for a while to come. That's because warm colours will also be playing a starring role in 2020! Colours like yellow ochre, terracotta and orange. So go ahead: surprise yourself by using unexpected colour combinations. What about arranging pastel coloured flowers in a bright yellow or blue vase? Or combining soft colours like purple and pink with yellow as you see here?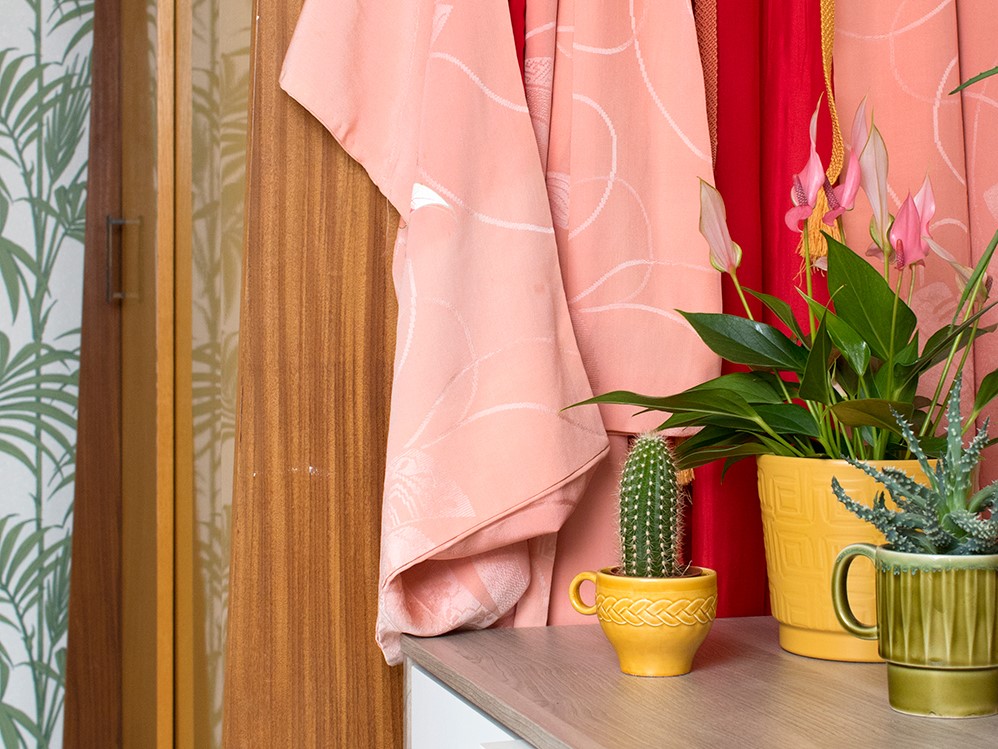 Is it hard to imagine which colours would look good together? Try creating a mood board on Pinterest!
Green
Another important colour for 2020 is green. Paint brand Flexa, for example, named Tranquil Dawn the colour of the year 2020. It's a light grey-green hue with a blue undertone. This trend colour can be used effectively together with either warm or cool colours. This is because it's a soft, almost neutral colour that can easily be used to create a relaxing atmosphere. But combining it with vivid colours has an entirely different – and exciting – effect! It really offers endless possibilities.
Also read: Decorating your home with Tranquil Dawn, the Flexa trend colour for 2020
We'll be seeing green on walls, furniture and curtains – and most certainly in the use of plants. After all, 'plant mania' is still going strong. And it will never fade as far as we're concerned.
How about experimenting with the use of various shades of green in a single space? Here's an idea: place a number of Anthurium plants in various decorative pots and group them together on a beautiful cabinet in front of a green wall. Anthuriums have lush green leaves that blend together with the walls, but their colourful flowers really pop. What's more, you can enjoy them for a long time since the Anthurium blooms longer than any other houseplant.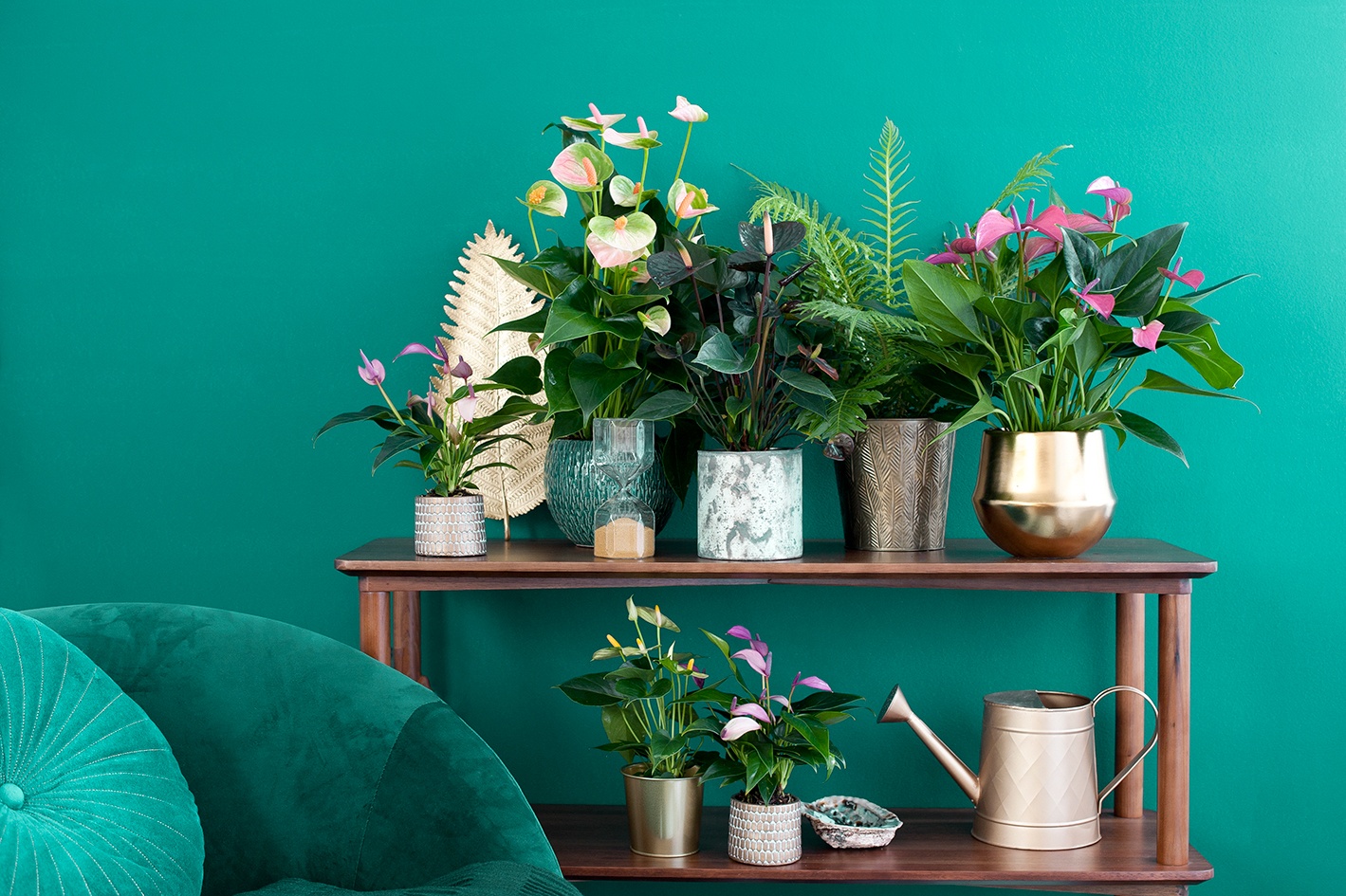 But what if you don't have enough room for so many plants? One solution is to use your vertical space. We've all seen bare walls decorated with pictures, mirrors and shelving, so why couldn't you do the same with plants? Try this for a change: set a plant or bunch of flowers on a shelf. Or use a macramé plant hanger or basket to suspend a plant in mid-air: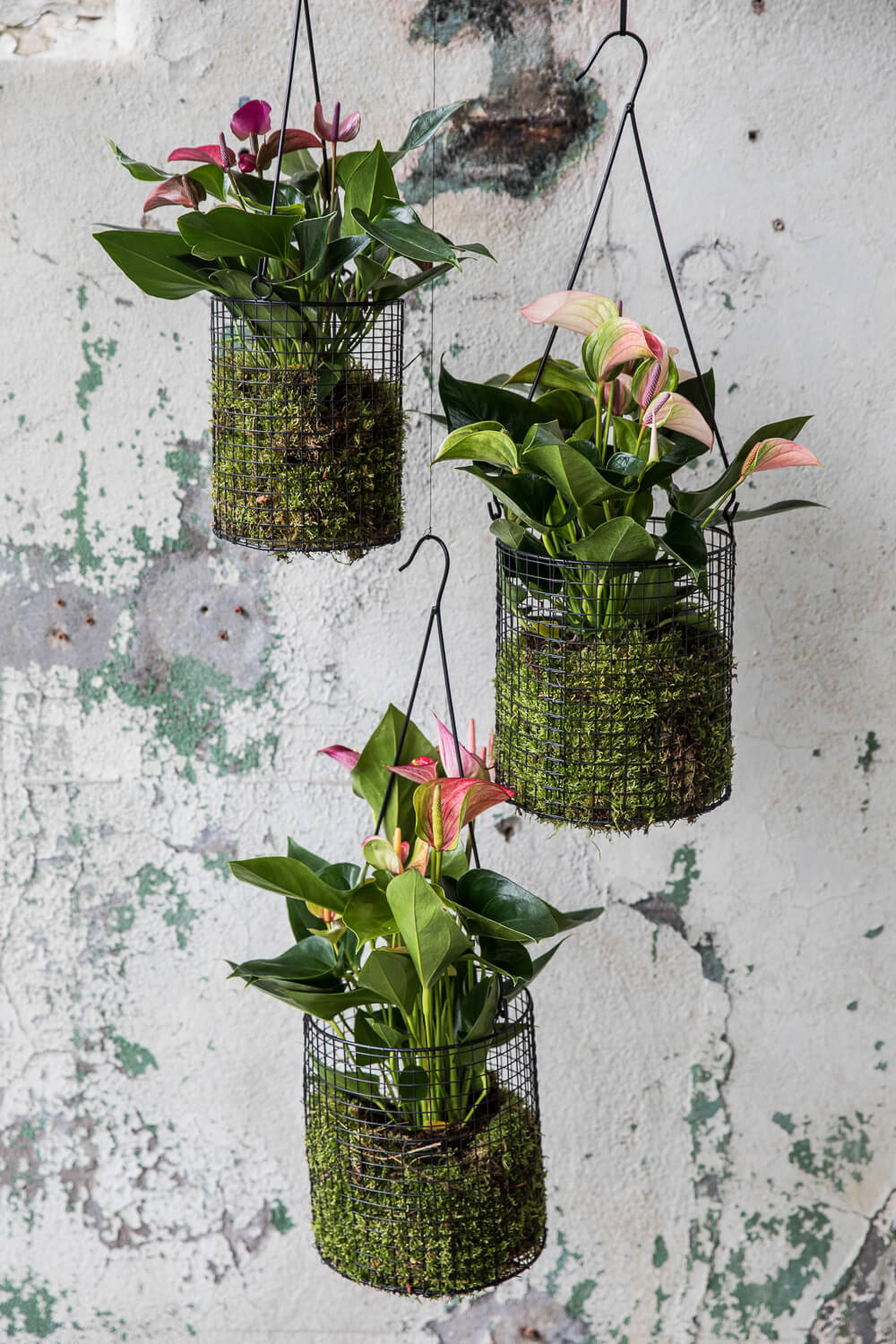 Natural
Having plants in your home and green on a wall is all fine and good, but green also has other associations. After all, sustainability is also an important issue in 2020. This can be seen in things like environmentally responsible paints, energy-efficient lamps, and recycled products. What about using an old crate as a coffee table, or coasters made of cork?
Yet this idea is also the inspiration for a home displaying many neutral colours and natural materials. You could start, for example, with colours like brown, grey and white and then add items made of materials like wood, wicker, cotton and wool: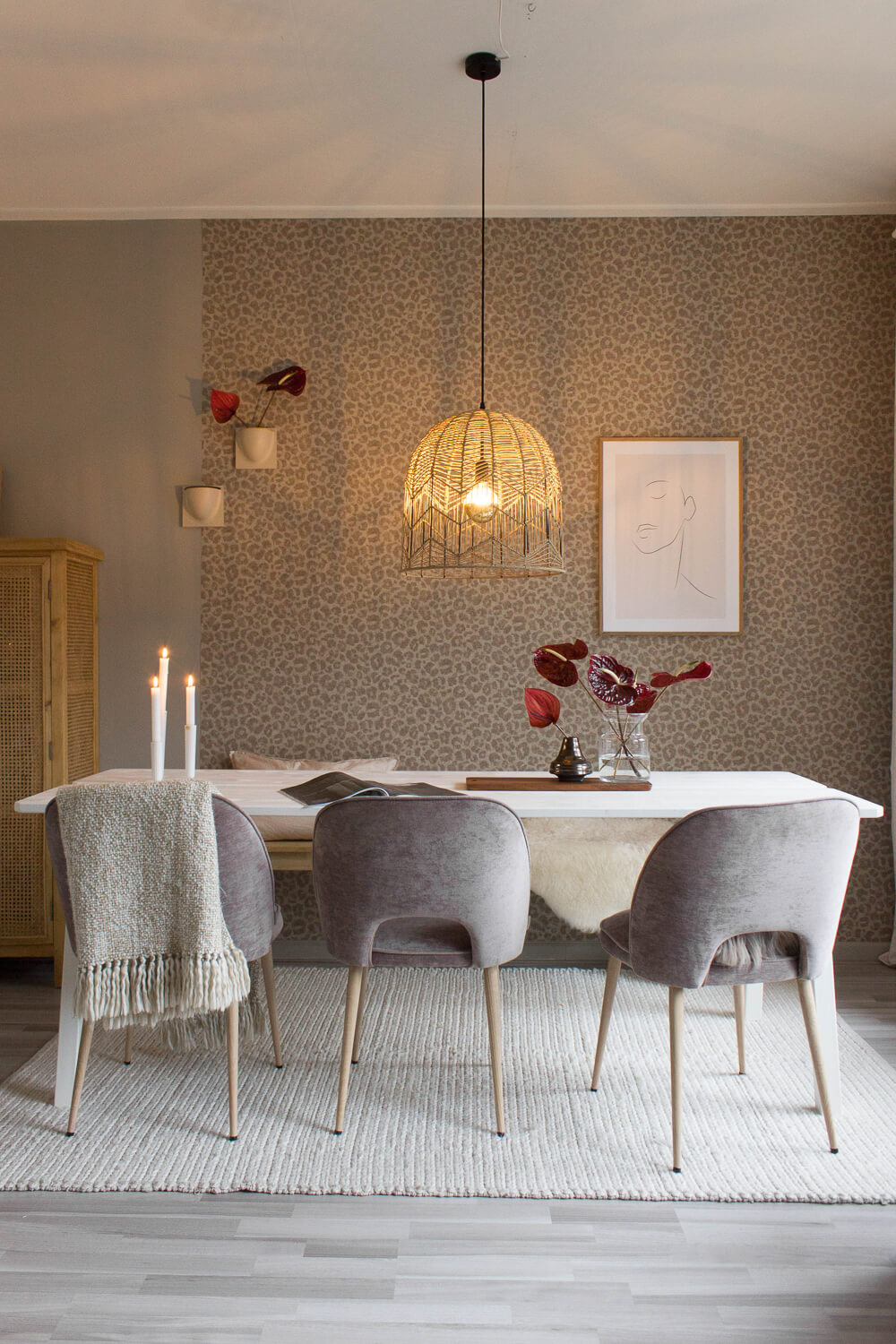 For a home with a sleeker, more minimalist interior design style, you could use materials such as marble and glass: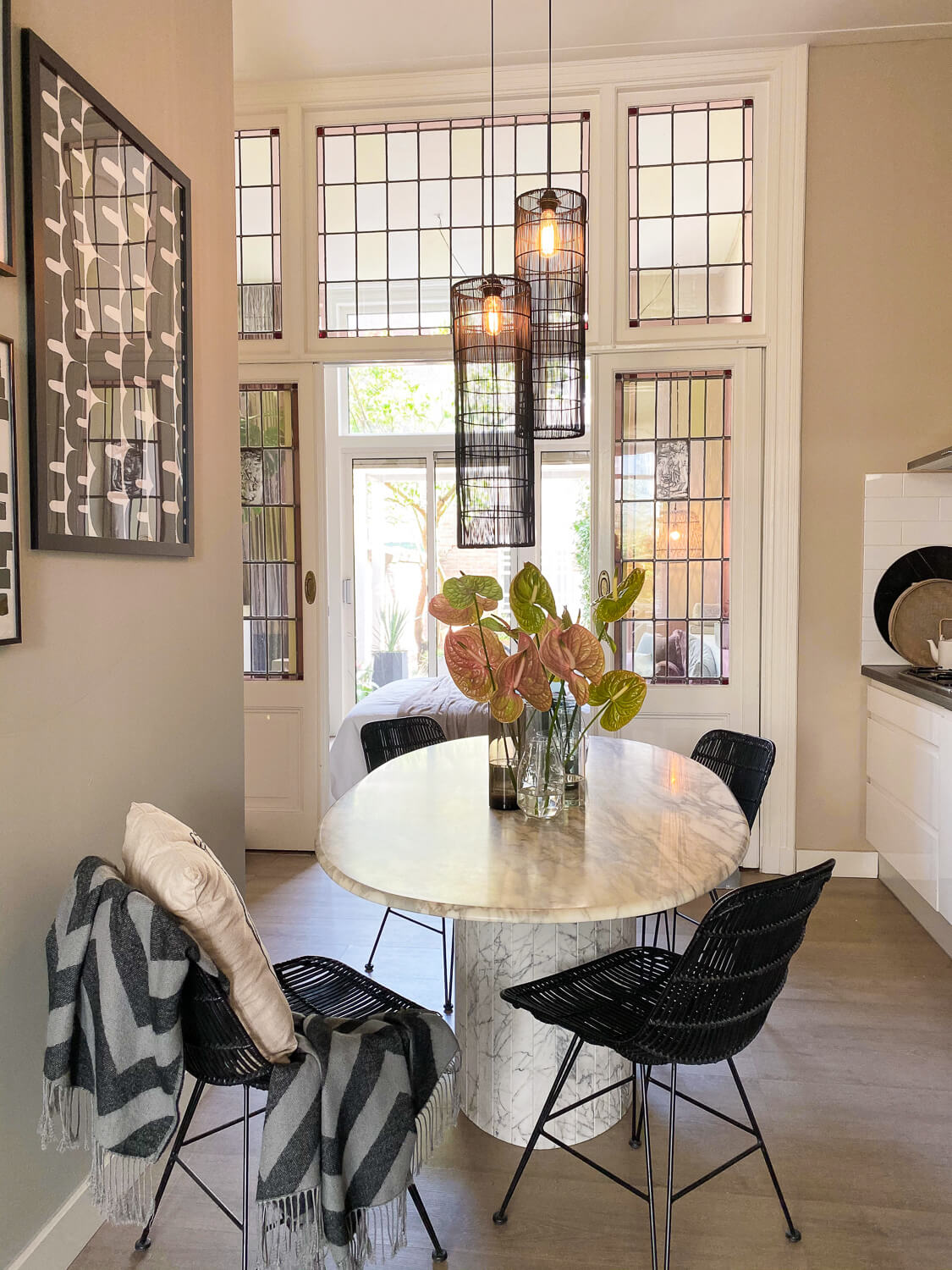 Also read: Cut Anthurium flowers in 3 entirely different interiors
Save this article on Pinterest: